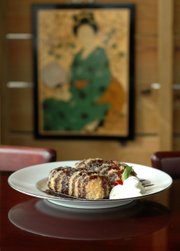 On the one hand, fried Twinkies at a sushi place don't make sense. On the other hand, the way Yokohama makes them, they kind of do. Instead of loading them with pancake batter and serving them on a stick (à la the county fair), Yokohama takes a two-pack of Twinkies, fries them in sweetened panko batter and plates them with clover honey, chocolate sauce, a little pouf of whipped cream and a mint leaf.
Where to get it: Yokohama, 1730 W. 23rd St. (also available at Yokohama's downtown location, 811 New Hampshire St.)
What you'll pay: $2.99
Try it with: Dinner first.
Also on the menu: Sushi, sushi and more sushi, plus a variety of Japanese and other Asian entrees, rice, noodle dishes and bento boxes. Other fried desserts include cheesecake, ice cream or bananas.
Copyright 2018 The Lawrence Journal-World. All rights reserved. This material may not be published, broadcast, rewritten or redistributed. We strive to uphold our values for every story published.