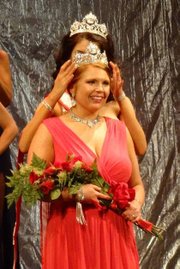 Tonganoxie — Donna Hoegler stood on the Folly Theater stage, ready to answer a judge's question.
"What is your state's natural resource?" the host asked the 33-year-old Tonganoxie hairstylist.
Hoegler's mind was racing.
"Sunflower oil, duh," she quipped with a laugh.
Hoegler was participating in the Mrs. Kansas pageant March 1 in Kansas City, Mo., when she was posed the question. The answer the judges were looking for: "The people of the Sunflower State." But when you're on the spot as Hoegler was, sometimes you have to improvise.
In the end, her answer was good enough. Hoegler won the contest and was named Mrs. Kansas. Now she's headed to the Mrs. America national pageant.
"I grew so much over that weekend," she said. "And it was one of the best experiences I ever had."
Hoegler actually had signed up for the 2013 pageant, but two surgeries sidelined her last year. The 1998 Tonganoxie High School graduate has battled a rare brain disorder known as Arnold-Chiari Malformation. It causes part of the brain to hang too low, cutting off the flow of spinal fluid to the rest of the body. Her condition make an entire side of her body to go numb. When Hoegler was younger, she says, it was thought she had carpal tunnel syndrome or even multiple sclerosis, based on her symptoms.
The disorder has required various surgeries, but the pageant champ says it also has made her stronger. It's what inspired her to compete in the first place: Through Mrs. America, Hoegler hopes to bring more awareness to her rare disorder.
"If I wasn't a self-advocate, I probably wouldn't be bringing awareness to Chiari," said Hoegler, who also has made breast cancer awareness her state platform.
Hoegler, who owns salon H Ave. in Tonganoxie, said she eats healthier and "listens to her body" more these days.
She credits chiropractor Samantha Ford with shaping her nutritional choices and mitigating the disorder during the past two years.
"I'm fueling my body, just feeding my body," Hoegler said. "She's a Godsend."
Now, Hoegler has more challenges ahead. She'll appear in both the Lawrence and Tonganoxie St. Patrick's Day parades as preparation for the national pageant, which will be in late August or early September in Tucson, Ariz.
But she isn't satisfied with a forever career as a pageant contestant.
When she "grows up," Hoegler says, she wants to be an inspirational speaker.
"God didn't put me through everything he put me through just to sit back and do hair."
Copyright 2018 The Lawrence Journal-World. All rights reserved. This material may not be published, broadcast, rewritten or redistributed. We strive to uphold our values for every story published.