Photo Gallery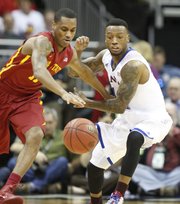 Kansas basketball v. Iowa State (Big 12 Tournament)
Images from the semifinal round of the Big 12 Tournament between the Jayhawks and Cyclones at Sprint Center in Kansas City, Mo.
Press Conferences & Post-Game Interviews
Bill Self, Perry Ellis and Tarik Black react to KU's BIg 12 semifinal loss to ISU
Kansas coach Bill Self, as well as post players Perry Ellis and Tarik Black, react to KU's BIg 12 semifinal loss to ISU, and discuss how the Cyclones broke down the Jayhawks' defense to reach the Big 12 championship game.
Kansas City, Mo — Sometimes, it's about the other guys, especially when the other guys play a brand of basketball as innovative as Iowa State's under coach Fred Hoiberg.
When the Cyclones hit their shots, they're tough to beat. When they can't get them to drop, they seldom have the defensive personnel to walk away winners.
Armed with five starters capable of burying three-pointers and a coach who knows how to put them in the right places to make it difficult to supply help defense and still recover in time to prevent leaving shooters open, the Cyclones present a complicated challenge.
They miss those shots and they're susceptible to grinders exploiting them defensively. That didn't happen Friday night in Sprint Center, where ISU advanced to Saturday's Big 12 tournament title game by defeating Kansas, 94-83. No need to call the coroner. Everyone in Sprint Center and a national-television audience could identify it as a death by shooting.
The Cyclones made 8 of 12 three-pointers in a first half that ended with Kansas on top, 48-46, and made 11 of 19 for the game. Six different Cyclones made at least one three-pointer and first-team All-Big 12 point guard DeAndre Kane made 5 of 6 on a night he totaled 20 points, six rebounds, six assists, two steals and a blocked shot.
Unlike the way most basketball games are won, Iowa State established the outside game to open up the inside.
Center Georges Niang, who has burned Kansas in the past from long range, did his damage in the paint this time on a night he cobbled together a strange stat line: 11 of 22 shots, 1 of 4 threes, 25 points, two rebounds, seven assists and eight turnovers. One night after Kansas did such a terrific job of clogging the paint with strong help defense, Niang had his way.
When a team gets as hot from beyond the arc as the Cyclones did the first half, it can, at the very least, subconsciously take the conviction out of leaving your man to help on another. Couple that with the Cyclones being strategically spaced far apart, which lengthens the defender's task in both helping and recovering, and it's a tough blend to combat, especially without a shot-blocker.
"Everybody still has to give strong help and get back to close out on shooters," Traylor said of whether playing a team like Iowa State requires changing the defensive approach. "They're definitely a talented team, a tough team to guard. Those guys can really shoot it. They came out hot today and made a lot of great plays down the stretch."
Even with 7-foot center Joel Embiid in the lineup, Kansas didn't defend as consistently well as in most recent seasons, but they did throw Iowa State off stride in Ames to the tune of 4-for-25 from three for the Cyclones that night.
"They made shots tonight," Kansas point guard Naadir Tharpe said. "I think we played much better defensively that night. Today they were shooting more open shots and we had miscommunication and that's what hurt us."
Said Traylor of the Cyclones: "So many shooters and everybody can score. Great coaching. A team like that, especially when they come out hot, rolling and ready to play, they're a tough matchup for anybody."
Tough matchups for Kansas became more plentiful once Embiid went down with a stress fracture of the lower back, an injury expected to keep him out of at least the first two games of the NCAA tournament. The Jayhawks are 3-2 without him.
Kansas played two tough teams in the Big 12 tournament and batted .500. After facing a lightweight in the first round of the NCAA tournament, it'll face a tough one in the second round, a game that likely will be close to a 50-50 proposition. If the Jayhawks advance to the Sweet 16, another 50-50 proposition awaits and it involves the status of their gifted center from Cameroon. Will he or won't he play? No point in worrying about that unless the Jayhawks survive for that long.
"Points are going to come," Traylor said. "We scored pretty good today, but we definitely have to limit the opponents. How many did they have, 90-something? That's too many. We've got to get that number down."
Copyright 2018 The Lawrence Journal-World. All rights reserved. This material may not be published, broadcast, rewritten or redistributed. We strive to uphold our values for every story published.