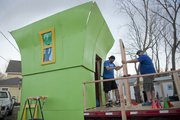 The annual Lawrence St. Patrick's Day Parade is a time for fun and celebration but also a time to give back to the community.
Through its various benefits throughout the year, the parade, which is in its 27th year, raises money for local nonprofits. This year, the parade will benefit:
• Bikers Against Child Abuse, a group of northeast Kansas motorcycle riders that supports and empowers children who have been physically or sexually abused.
• Baby Jay's Legacy of Hope, a charity that assists local families battling childhood cancer named in honor of Jayden Souter, of Lawrence, who lost her fight with cancer at the age of 5.
• Camp Bromelsick Foundation, an organization that promotes personal health, conservation, leadership and citizenship among Douglas County youth.
IF YOU GO
The 27th annual Lawrence St. Patrick's Day Parade begins at 1 p.m. Monday from South Park in downtown Lawrence. Check-in for float entries starts at 9 a.m. at 12th and Rhode Island.
"The weather looks like it's going to be beautiful for the parade, and we've got about 100 (float) entries," said Sarajane Scott, a chairwoman of the Lawrence St. Patrick's Day committee.
Several fundraising events are on tap for this weekend:
• Leprechaun Leap Pub Crawl at 6 p.m. Friday starting at Conroy's Pub, 3114 W. Sixth St. The crawl visits four to five restaurants and bars, where St. Patrick's Day Parade memorabilia will be sold, before concluding around 10 p.m.
• Luck-of-the-Irish Motorcycle Poker Run on Saturday starting (and ending) at Slow Ride Roadhouse, 1350 N. Third St. Registration for the 85-mile ride begins at 10:30 a.m., with kickstands up at noon. The participation fee is a $20 donation, and Poker Run T-shirts will be on sale for $20 apiece.
• Third Annual Irish Road Bowling on Sunday with registration at 10:30 a.m. at 23rd Street Brewery, 3512 Clinton Parkway. Participants will then head to Clinton State Park to bowl at 11 a.m. Suggested donation is $120 for teams of four. Prizes will be awarded, and the winning team bowls free next year.
Previous parade fundraisers included the Half Way to the Green Golf Tournament in September; Shenanigans Shuffle in November; pool tournament and chili cook-off in January; bowling tournament, pub quiz, dart tournament and pub crawl in February; and Shamrock Shuffle 5K and 10K, charity auction and queen's coronation earlier this month.
The St. Patrick's Day Parade Committee will announce how much has been raised when it gives out the money the second week of April.
Copyright 2018 The Lawrence Journal-World. All rights reserved. This material may not be published, broadcast, rewritten or redistributed. We strive to uphold our values for every story published.