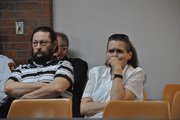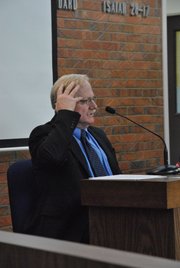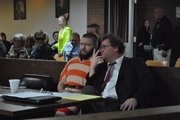 Ottawa — All four victims of a quadruple homicide here last year, including a mother and daughter thought to have been killed moments apart, died of shotgun blasts, a coroner said Wednesday before a judge ordered 28-year-old Kyle T. Flack to stand trial for the homicides.
District Judge Thomas Sachse's ruling came after two days of testimony featuring details about DNA matching Flack's at the crime scene and on a discarded shotgun.
Flack is accused of shooting to death Steven White, Andrew Stout, Kaylie Bailey and her 18-month-old daughter, Lana-Leigh, at Stout's rural Ottawa home in late April and early May 2013.
Prosecutors did not discuss a motive for the killings. The defense declined to comment after Wednesday's hearing.
Flack, who sat in the courtroom in shackles and an orange prison jumpsuit throughout the hearing, did not show emotion when the judge ordered the trial. He will be arraigned on April 22 on one count of capital murder in the deaths of both Baileys, two counts of first-degree murder in the deaths of White and Stout, and criminal firearm possession. He has been in jail in Franklin County since May on a $1 million bond.
Speaking to reporters outside the courthouse on Wednesday, Franklin County Attorney Stephen Hunting said the prosecution doesn't have to decide whether to seek the death penalty until seven days after Flack's arraignment.
The state is seeking sentences of 50 years in prison without the possibility of parole for the killings of White and Stout. Prosecutors are seeking one capital murder conviction for the mother-daughter killings because they allege that the two were killed "at or around the same time" as part of a single act.
The coroner who performed the victims' autopsies, Erik Mitchell, said Wednesday that each died because of gunshot wounds.
"This is a homicide," Mitchell said each time Hunting asked about the manner of each victim's death.
On Tuesday, a Franklin County detective testified that Flack told him Stout took the first shot at White in the garage after an argument over rent.
On Wednesday, Mitchell said the gunshot to the chest suffered by White was an "absolutely non-survivable injury," and that the shot to his head would have killed him immediately. During cross-examination by Flack's attorney, Ron Evans, Mitchell said he could not determine which shot came first nor could he rule out the possibility White had died after the first shot.
Flack is accused of killing White between April 20-29. White's body was found under a tarp in an outbuilding on Stout's property by three Ottawa residents who visited the property to feed animals on May 6.
Stout was last reported seen by a friend on April 28. His supervisor testified Tuesday that Stout did not show up for work on April 29, which is when Flack is accused of killing him.
Lisa Smith, Kaylie Bailey's mother, testified that she last saw her daughter and Lana-Leigh at her Olathe home the morning of May 1. Smith said Kaylie Bailey told her the two planned to spend "a couple days" at Stout's Ottawa home. Flack is accused of killing the two at the home later that day. The bodies of Bailey and Stout were discovered beneath piles of clothing and bedding inside Stout's master bedroom between May 6-7.
On Wednesday, Mitchell said Stout suffered at least five shotgun injuries to his skull, neck, back and chest. Mitchell also testified that Stout suffered blows to the head and that the blows had to have occurred before Stout was shot.
Kaylie Bailey's partially clothed body was discovered with her hands bound behind her back with black zip-ties and a bandana around her neck that a forensic scientist said contained Bailey's saliva. Because she was the only victim found in this condition, and because a towel containing semen that matched Flack's DNA was found in a nearby room, prosecutors had sought an attempted rape charge. Sachse ruled that there was insufficient evidence to try Flack for rape.
Lana-Leigh's body was the last of the four found, on May 11, inside a suitcase in a creek between Franklin and Osage Counties. A forensic scientist testified Wednesday that the child's blood and tissue samples were found in several locations in the room in which her mother and Stout were found.
"She died a few feet from her mother laying there on the floor," Hunting said.
Hunting said that the creek in which Lana-Leigh's body was found is near Williamsburg, not far from Interstate 35, which leads to Emporia. Flack was detained there May 8 after investigators found him at a friend's apartment. Bailey's missing Toyota Corolla was also found in Emporia, and inside was a duffel bag belonging to Flack that contained a gun-cleaning kit and black zip-ties that matched those binding Bailey's hands when her body was found.
Earlier Wednesday, Bethany Stone, a Johnson County forensic scientist specializing in DNA analysis, testified that both minor and major matches for DNA belonging to Flack were found on items gathered at Stout's Georgia Road home and on samples taken from a shotgun found in the Emporia landfill.
Lana-Leigh's DNA was found on one shotgun shell in the master bedroom and Flack's DNA was found on another, Stone said. Stone also analyzed DNA samples obtained from the discarded shotgun and its shells that were found in Emporia and said Wednesday that it matched Flack's DNA.
Other Johnson County investigators testified Wednesday that they found evidence that the shells found at the crime scene had once been in the pump-action shotgun later found in the Emporia landfill but that, aside from one shell found in the outbuilding, there were no clear signs that those shells had been fired from that weapon.
The Associated Press contributed to this story.
Reporter Stephen Montemayor can be reached at 785-832-7160 or at smontemayor@ljworld.com.
Copyright 2018 The Lawrence Journal-World. All rights reserved. This material may not be published, broadcast, rewritten or redistributed. We strive to uphold our values for every story published.