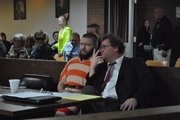 Ottawa — The first day of testimony in the case against Kyle Trevor Flack, the 28-year-old Ottawa man accused of killing four people last year, included a detective saying Flack told him he killed one of the men during a dispute and investigators describing the discovery of 18-month-old Lana-Leigh Bailey's body inside a suitcase in a rural creek.
Judge Thomas Sachse granted the state's motion to include testimony from a Franklin County Sheriff's Office detective who provided details of a May 8 interview with Flack in which Flack described shooting Steven White. The evidence was heard during a nearly two-hour hearing that preceded Tuesday's scheduled preliminary hearing in Franklin County District Court.
Detective Jeremi Thompson of the Franklin County Sheriff's Office testified that hours after being detained in Emporia, Flack said in an interview that another victim, Andrew Stout, first shot White with a shotgun during an altercation inside an outbuilding on Stout's property, but that Flack delivered the fatal blast after Stout handed him the gun.
"'I shot him. He dies.'" Thompson said were Flack's words. Thompson said Flack and Stout covered White's body with a tarp in the outbuilding, then went inside and smoked marijuana before Stout left for work.
Flack is charged with capital murder in the deaths of Kaylie Bailey and Bailey's daughter, Lana-Leigh, which are alleged to have occurred on May 1. He also faces two counts of first-degree murder for the deaths of White, between April 20-29, and Stout, on April 29. Last month, prosecutors filed intentions to seek Hard 50 sentences for each of the first-degree murder charges. Flack is also charged with attempted rape and criminal possession of a firearm.
Thompson said Flack told him that White had been living at Stout's property in rural Franklin County and that Stout asked him to leave after he didn't pay rent. According to Thompson, Flack told him that the shooting occurred during an argument one day in late April after White returned to gather some of his belongings.
Ron Evans, who is leading the defense of Flack, challenged whether Flack's statement could be considered in court because it came after Flack had asked Thompson whether he thought Flack should get an attorney before he continued talking. But because Flack asked whether Thompson — who said he wasn't in a position to give legal advice — thought he should ask for a lawyer instead of outright asking for a lawyer, Sachse granted the prosecution's motion to admit the statements.
Tuesday's hearing featured testimony from 32 witnesses, including the mothers of Steven White and Kaylie Bailey, and Flack's stepfather, each of whom talked about the last time they saw or heard from their children. Multiple law enforcement officials from both Franklin County and Emporia also testified that Flack was found at a friend's apartment in Emporia after midnight on May 8. A car belonging to Kaylie Bailey was also found in Emporia as was a duffel bag reportedly belonging to Flack that included gun-cleaning parts and black zip ties that matched those found binding Bailey's hands together.
Kenneth Douglas, who said he had been friends with Flack for "a lot of years," said Flack had stayed at his apartment until a Wabaunsee County Sheriff's Office deputy and Emporia police detained him as a person of interest in the search for missing Lana-Leigh, who was 18 months old at the time of her death. Law enforcement officials who discussed detaining, and later transporting Flack from Emporia to Ottawa for further questioning, testified that Flack initially inquired about the whereabouts of Lana-Leigh and the well-being of his "friends."
The most extensive testimony Tuesday came from Ryan Rezzelle, a Johnson County Sheriff's Office crime scene investigator, who described spending more than a week processing the scene at 3197 Georgia Road, where White's body was found inside the outbuilding and the bodies of Stout and Bailey were found inside under a pile of clothes in the master bedroom. A half dozen shotgun shells were also found on the property, Rezelle said, and all but one were spent. Rezzelle also said Kaylie Bailey suffered what appeared to be a gunshot to the head, and that a hole was made in the floor below where her head rested.
Andrea Reed, a Johnson County investigator, later testified that Lana-Leigh's body was found inside a suitcase in Tequa Creek near Osage County on May 11. Along the bank, investigators also found diapers and paperwork that included both Kaylie Bailey's and Lana-Leigh's names.
Tuesday's hearing ended with testimony from Emporia employees who reported the discovery of a loaded shotgun without its barrel at a landfill. Emporia police sent the shotgun to Johnson County for further analysis.
The hearing will resume Wednesday morning, beginning with testimony from coroner Erik Mitchell.
Copyright 2018 The Lawrence Journal-World. All rights reserved. This material may not be published, broadcast, rewritten or redistributed. We strive to uphold our values for every story published.