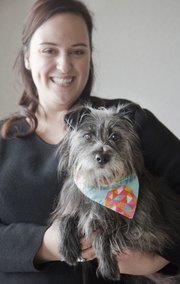 Really scruffy looking. Pretty adorable. A little emotional baggage. Age unknown. Likes to hang out in the laundry basket.
That's Lawrence resident Jenna Lyons' dog, Tilly, representing Kansas in a Purina-sponsored documentary project called "Why We Rescue: 50 Rescue Stories Across America," online at whywerescue.com.
Lyons, a Kansas University graduate student, was living in Michigan when she stopped in an animal control center she drove by each day and fell in love with the little black schnauzer mix (Or maybe terrier? No one knows.). Lyons submitted her name online for the rescue project, and the photographer visited last year.
It's a big month for Tilly, who's come out of her shell and now enjoys playdates with other dogs and leading the pack at her doggie daycare, Lyons said. Tilly was pictured in a Why We Rescue slideshow on the Today Show's website Thursday, and on Sunday she'll celebrate her two-year "adoptiversary" with Lyons.
Copyright 2018 The Lawrence Journal-World. All rights reserved. This material may not be published, broadcast, rewritten or redistributed. We strive to uphold our values for every story published.