Photo Gallery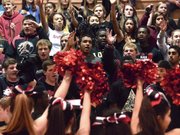 LHS boys at Olathe East (sub-state)
Box score
LAWRENCE (74)
Justin Roberts 7-15 8-8 23, Connor Henrichs 1-3 4-6 7, Price Morgan 5-5 2-4 12, Benjamin Rajewski 0-0 0-1 0, Tae Shorter 0-0 0-0 0, Anthony Bonner 6-11 6-11 21, Fredrick Brou 0-0 0-0 0, John Barbee 1-2 2-2 5, Anthony Riley 2-5 0-0 6. Totals 22-41 23-33 74.
OLATHE EAST (83)
Caelan Neal 5-7 5-9 16, Javion Blake 2-4 3-3 7, Justin Matthews 3-4 4-4 13, Brady Kaemmer 0-0 0-0 0, Cameron Hunter 0-1 10-12 10, Ezra Talbert 8-11 4-5 20, Josiah Talbert 4-7 3-3 13, Daniel Donnelly 2-5 0-0 4, Cedric Roland 0-0 0-0 0. Totals 24-39 29-36 83.
Lawrence 22 8 13 31 — 74
Olathe East 18 23 17 25 — 83
Three-point goals — LHS 6-19 (Bonner 3-6, Roberts 1-6, Riley 1-4, Heinrichs 1-2, Barbee 0-1) : Olathe East 6-11 (Matthews 3-4, J. Talbert 2-4, Neal 1-2, E. Talbert 0-1). Fouled out: LHS (Barbee). Technical — Olathe East (Neal).
-->
-->
Olathe — If you're looking for a turning point in seventh-ranked Olathe East's 83-74 Class 6A boys baskeball sub-state championship victory over No. 5 Lawrence High on Saturday night, look no further than the early stages of the second quarter.
Lawrence held a 26-20 lead after post player Price Morgan's basket in the lane at the six-minute mark in the period, but Olathe East turned it up a notch at that juncture and flourished in its transition game. The Hawks reeled off a half-ending 21-4 surge, capped by an 11-0 run during the final three minutes of the period, for a 41-30 advantage at halftime.
LHS would never recover, closing its season at 17-5. East (18-4) advances to the state tournament next week.
"We knew this would be a game of runs and momentum," Lawrence head coach Mike Lewis said. "It definitely shifted their way there."
The Lions were also playing with a lot of emotion after learning LHS assistant and head junior-varsity coach Kermit Aldridge had lost his battle to cancer at 2 a.m. Saturday.
"Our boys have had a lot of adversity lately," Lewis said. "They might look at you in the face and say, 'Oh, I'm doing fine. Let's go win this one for coach,' but it weighs on them.
"They have some real heavy hearts, and in a game like this, where that momentum is going against us, we dug in, and our guys have done a good job handling adversity."
East swingman Ezra Talbert, a Liberty University signee, made all five of his shots in the second quarter, along with a free throw, for 11 of his team-high 20 points in the period. He was one of four Hawks in double-digit scoring.
"We were way too passive in our offense against their 1-3-1 at that point (in the second quarter)," Lewis said. "We were playing like we were up six or eight, and we were down eight or 10 at that point. We were a little shell-shocked."
LHS junior guard Justin Roberts scored all but two of his game-high 23 points in the second half, including converting all eight of his free throws. Senior guard Anthony Bonner added 21 points for the Lions, who trailed 58-43 after three quarters.
Roberts led a fourth-quarter LHS rally, outscoring the Hawks, 31-25, but it came up shy.
"We knew it was going to be a tough game because this was a great team that we were playing against," Roberts said of the Hawks. "We tried to focus as a team.
"It was very hard to go out there (after learning of Aldridge's passing). We just had to play as a team and as a family."
Remembering Aldridge
Aldridge, 52, was a two-year letter winner in football and basketball at LHS, graduating in 1981.
Aldridge went on graduate from Kansas University, where he played one year for the KU football team. He also worked as an assistant strength-and-conditioning coach for the Jayhawks for three seasons.
Aldridge served as an assistant football coach at LHS for four years. He was in his third season with the basketball program.
Copyright 2017 The Lawrence Journal-World. All rights reserved. This material may not be published, broadcast, rewritten or redistributed. We strive to uphold our values for every story published.