Photo Gallery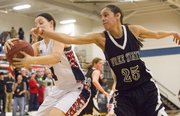 Free State-Manhattan girls basketball
Box score
FREE STATE (39)
Adriana Jadlow 1-3 1-2 3, Scout Wiebe 4-17 6-7 15, Madison Piper 8-13 2-3 21, Millie Shade 0-9 0-0 0, Maren Kahler 0-1 0-0 0. Totals 13-43 9-12 39.
MANHATTAN (48)
Amara Ehie 2-5 3-4 7, Molly Fiser 1-5 2-2 5, Savannah Roberts 1-8 0-0 2, Savannah Thaemert 2-2 2-2 6, Par McNair 3-5 0-0 6, Caroline Ballard 5-7 3-5 13, Darby Price 2-9 3-4 7, Kylie James 1-1 0-0 2, Gigi McAtee 0-2 0-0 0. Totals 17-43 13-17 48.
Free State 14 7 7 11 — 39
Manhattan 10 12 10 16 — 48
Three-point goals: Manhattan 1-11 (Fiser); Free State 4-19 (Piper 3, Wiebe). Fouled out: None. Turnovers: Manhattan 13, Free State 9.
Manhattan — Two months ago, Free State High's girls basketball team was just fighting to stay competitive in games. They fell just short of a trip to the state tournament on Friday night.
The Firebirds trailed by four points with under five minutes remaining in the game before going cold from the field in a 48-39 loss to Manhattan in the Class 6A sub-state finals at Manhattan High.
Free State finished the season with a 10-12 record.
"I can't really describe it. It's heartbreaking," freshman Madison Piper said. "Especially since it's our last game. I wish we could have won that, but I'm proud of us, proud of our season. Starting (the season) 0-4 and then coming to this."
Manhattan (21-1, ranked No. 3 in 6A by the Kansas Basketball Coaches Association) scored on its first two possessions of the fourth quarter to take an eight-point lead.
Free State coach Bryan Duncan decided to put senior Scout Wiebe, who entered the final period with four fouls, back in the game and told her to make a play. She responded with two mid-range jumpers to cut the score to 36-32 with 4:56 left. However, Manhattan senior Par McNair answered with two straight baskets to start a 6-0 run, and the Firebirds couldn't recover.
"They're a good team," Duncan said. "We knew it would be tight the whole way. They hit some tough shots in that fourth quarter and I thought we had good looks from our scorers in the fourth quarter. We had a hard time getting shots to fall."
Manhattan opened the second half with a 6-0 run to take a 28-21 lead before Piper drilled a three-pointer and a turnaround jumper in the low post on back-to-back possessions. The Firebirds then missed their next four shots over the next four minutes before junior Adriana Jadlow made a layup.
"They had a great defense, and I give props to them for that," said Wiebe, who finished with 15 points, four rebounds and four steals. "We just couldn't execute on offense."
Piper scored the first nine points of the game for the Firebirds, giving her team a 14-10 lead at the end of the first quarter. She finished with a game-high 21 points to go along with seven rebounds and two blocks.
"I just wanted to win that game so bad," Piper said. "In the end, I'm happy that we could all come together and I'm happy with our season."
Manhattan took the lead at the end of the first half, as junior Molly Fiser hit a three-pointer a few seconds before halftime. Wiebe scored six of Free State's seven points in the second quarter after Piper picked up her second foul and was forced to the bench.
"It was such a tight game the whole way," Duncan said. "It was a game of runs and I think at the end of the first half, we had a little bit of foul trouble and tried to protect some players. I thought we had a chance to extend (our lead) a little bit but it didn't happen."
Copyright 2018 The Lawrence Journal-World. All rights reserved. This material may not be published, broadcast, rewritten or redistributed. We strive to uphold our values for every story published.