Photo Gallery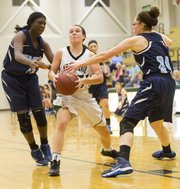 Wichita East vs. Free State girls
Box score
FSHS 50, Wich. East 23
FREE STATE (50)
Lauren Johnson 0-1 2-2 2, Adriana Jadlow 3-9 6-6 12, Hannah Walter 0-2 0-2 0, Scout Wiebe 5-16 0-0 11, Madison Piper 4-12 0-0 11, Millie Shade 4-9 3-3 12, Hannah Shoemaker 1-2 0-0 2, Lexci Kimball 0-1 0-0 0, Morgan Gantz 1-2 0-0 2. Totals 18-54 11-13 50.
WICHITA EAST (23)
Kimirra Lee 2-15 2-2 6, Miranda Schuckman 0-1 0-0 0, Andrea Romero 0-1 0-0 0, Antonea Carson 1-4 1-2 3, Alexis Shamburg 0-2 2-2 2, Kylee Jarrett 0-4 0-0 0, Jade Carranza 1-7 0-0 2, Raysha Claibourn 0-2 0-0 0, Astrid Same 5-14 0-5 10. Totals 9-50 5-11 23.
Wichita East 4 10 7 2 — 23
Free State 16 16 9 9 — 50
Three-point goals: Wichita East 0-5; Free State 3-9 (Wiebe, Piper, Shade). Fouled out: None. Turnovers: Wichita East 11, Free State 9.
-->
-->
If any of Free State High's girls basketball players were nervous for the playoffs, they didn't show it.
The Firebirds jumped to a 12-point lead in the first quarter Wednesday and never looked back in a 50-23 rout over Wichita East in the first round of Class 6A sub-state at FSHS.
Senior Scout Wiebe scored seven consecutive points over a three-minute stretch at the end of a 12-0 run in the second quarter. Freshman Madison Piper started the run with a jumper before senior Millie Shade converted a layup while drawing the foul and making the free throw. Junior Adriana Jadlow added a bucket right before the halftime buzzer, giving Free State a 32-14 lead.
The Aces wouldn't get closer than 15 points for the remainder of the game.
"I thought we ended the second quarter well, and we had a nice two-minute stretch that made us more comfortable," Firebirds coach Bryan Duncan said. "Same thing in the third quarter. They came out really aggressive, and we handled that well."
Piper, who just fell shy of a double-double with nine points and nine rebounds, opened the third quarter with a jumper before blocking a shot, grabbing the rebound and tossing the ball to Shade, who ran past the defense for an uncontested layup.
"It was a good team performance," Duncan said. "Just did a lot of good things. Nobody really stood out good or bad, so that was a positive. I thought we moved the ball well when we needed to and just really controlled the game."
Shade, who came off the bench, sparked the Firebirds in the first quarter with five points and two rebounds in a one-minute stretch. The Aces (8-13) responded with a layup, but Piper drained a three-pointer before Jadlow added two free throws and junior Hannah Shoemaker made a layup to complete a 7-0 run to end the first quarter. Jadlow finished with a double-double, scoring 12 points and grabbing 10 rebounds.
"We just came out knowing we had to play," said Shade, who had 12 points and five rebounds. "We kind of treated it like the LHS game. We knew we had to come out to play to win."
Free State (10-11) emptied its bench in the fourth quarter, as sophomore Lauren Johnson and junior Morgan Gantz helped the Firebirds to a 6-0 run over the final four minutes.
"It was nice to have everybody play well because it made for an easier win," said Wiebe, who had a game-high five steals to go along with 11 points and five rebounds. "It just kind of relaxed everybody."
The Firebirds will face top-seeded Manhattan (20-1, ranked No. 3 in 6A by the Kansas Basketball Coaches Association) in the sub-state championship game at 7 p.m. Friday at Manhattan HS.
Copyright 2017 The Lawrence Journal-World. All rights reserved. This material may not be published, broadcast, rewritten or redistributed. We strive to uphold our values for every story published.