Paula Barr, a second grade teacher at Quail Run School in Lawrence, has been named the district's 2013-2014 Elementary Teacher of the Year.
The award was presented Thursday during an all-school assembly.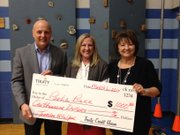 "It was a huge surprise," Barr said. "(Superintendent Rick) Doll came to our school and read this list of wonderful accolades, and I was thinking in my head, looking around at the teachers that I teach with, thinking 'oh, I bet it's her,' or 'I bet it's him.' And then I heard my name, and I thought, what?"
Dian Glendening, a special education teacher at Quail Run, was among those who praised Barr's work.
"Paula is by far the most dedicated, enthusiastic and knowledgeable teacher with whom I have had the opportunity to teach," Glendening said. "It is amazing to see the beehive of activity in her classroom. The P.E. teacher told me once that her kids don't want to stop what they are doing in her class to go to gym."
Barr now teaches in a "blended" classroom, which combines online learning, small-group activity and traditional teacher-led instruction.
"It is an amazing way to teach and learn," she said.
Barr has been an elementary teacher for 32 years, including the last nine years at Quail Run. She previously taught at Kennedy and Hillcrest schools in Lawrence, but spent her first 13 years in the Shawnee Mission district in Johnson County.
For most of her career, she taught first grade, but switched to second grade about six years ago, and she described that as a bigger change than most people think.
Each year, the district names an elementary and secondary teacher of the year. Kelly Hart, an English teacher at South Middle School, received the secondary teacher award on Tuesday.
The award comes with a $1,000 check from Truity Credit Union of Lawrence, one of the district's Lawrence Education Achievement Partners.
Both Barr and Hart will be nominated for the Kansas State Teacher of the Year award, which will be announced next year.
Education news
Have a story idea?
Contact Journal-World education reporter Elliot Hughes:
ehughes@ljworld.com
Copyright 2018 The Lawrence Journal-World. All rights reserved. This material may not be published, broadcast, rewritten or redistributed. We strive to uphold our values for every story published.