Photo Gallery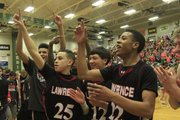 LHS boys at Free State
Box score
FREE STATE (61)
Tristan Garber 0-1 1-2 1, Blake Winslow 2-4 0-2 4, Cole Moreano 8-10 0-0 22, Keith Loneker 4-7 3-5 11, Reshawn Caro 2-4 2-2 7, Innocent Anavberokhai 2-3 0-0 4, Khadre Lane 5-10 1-1 12. Totals 23-39 7-12 61.
LAWRENCE HIGH (68)
Justin Roberts 5-8 11-12 24, Connor Henrichs 3-5 6-6 13, Price Morgan 5-8 3-6 13, Ben Rajewski 0-1 0-0 0, Anthony Bonner 6-14 0-2 13, John Barbee 2-4 0-2 5. Totals 21-40 20-28 68.
Lawrence 19 14 12 23 — 68
Free State 14 14 17 16 — 61
Three-point goals: Lawrence 6-14 (Roberts 3, Henrichs, Bonner, Barbee); Free State 8-12 (Moreano 6, Lane, Caro). Fouled out: None. Turnovers: Lawrence 4, Free State 13.
-->
-->
Lawrence High sophomore Justin Roberts insists he wasn't nervous. It didn't matter that Free State's student section was at a full roar and its boys basketball players were pumped up after tying the game at the end of the third quarter. In the City Showdown, he just refused to lose.
Roberts scored 13 of his game-high 24 points to power the Lions to a 68-61 victory in the latest chapter of the City Showdown on Friday night at FSHS.
"We were still mad about Tuesday's loss (to Shawnee Mission East), so that was still in our stomachs," Roberts said. "We didn't want to lose this game, especially to Free State. …We knew that we lost on our Senior Night, so we wanted to beat someone else on theirs."
Sophomore Price Morgan scored on a jumper to open the fourth quarter before Roberts was fouled on a three-point attempt and made all three free throws. Free State senior Reshawn Caro answered with two free throws of his own, but junior Anthony Bonner and Roberts combined for two baskets to stretch the Lions' lead to 54-47 with 4:55 left.
Free State (11-9) cut the lead back to four with under four minutes to play, but Roberts drilled a three-pointer from the top of the arc. After a Free State turnover on the next possession, Roberts converted a layup while drawing the foul before swishing the free throw, giving the Lions (16-4) a 10-point cushion.
"(Roberts) plays much older than he is," LHS coach Mike Lewis said. "He's just ultra-competitive. He's fiery, and he just competes. You don't want to be on the other side when he's hot because he'll frustrate the heck out of you."
Roberts added: "I was doing everything I possibly could, using my strengths, and trying to will my team to win."
Free State cut the Lions' lead to five after senior Cole Moreano hit back-to-back three-pointers, and Khadre Lane threw down a vicious dunk while drawing a foul with 57.4 seconds left. However, the Firebirds wouldn't get closer as LHS junior John Barbee grabbed two of his game-high six steals in the final minute, and Bonner capped the win with a dunk.
"We didn't finish well," said Moreano, who finished with 22 points and four rebounds. "They played well down the stretch. A couple of whistles didn't go our way, and they went their way. But what can you say? Justin, Anthony and Price, they did it. They won the game."
Moreano drilled three three-pointers and added an assist on senior Innocent Anavberokhai's layup to help the Firebirds erase an eight-point deficit in the third quarter to tie the game, 45-all.

"Cole is a great player," Lewis said. "We went zone there for a while, and on first-set play he was wide-open. We made our adjustment, guarded, and he hit it again. He's a big-enough player, and he's left-handed, so if he starts to get comfortable, watch out because he can really shoot over the top of you."
Morgan scored 11 points and added three rebounds in the first half as the Lions took a 33-28 lead into halftime.
The Firebirds left disappointed, but were happy with their effort throughout the game as they avoided the offensive droughts that have plagued them in multiple games this year.
"We competed our tails night off tonight, and I've rarely been more proud of a Free State team than I am right now," FSHS coach Chuck Law said.
This afternoon, both teams will learn of their sub-state schedules, which begin next week.
Copyright 2018 The Lawrence Journal-World. All rights reserved. This material may not be published, broadcast, rewritten or redistributed. We strive to uphold our values for every story published.