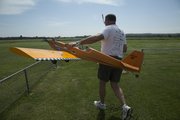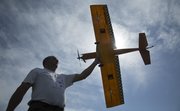 Don't be alarmed if you hear the whooshing and buzzing of airplanes overhead at Clinton Lake this weekend: It's just the Jayhawk Model Masters, piloting model planes as part of their annual Float Fly.
The event takes place Saturday from 9 a.m. to 3 p.m. at Boat Ramp No. 7 at Bloomington East Park, 700 N. 1190 Road, at Clinton Lake.
"It's a good, fun Saturday activity: watching model airplanes fly off the water," said Greg Kloepper of the Jayhawk Model Masters. "It's a fun little event."
About 15 to 20 pilots will be out at the lake Saturday flying their aircrafts. But these aren't your grandfather's model airplanes. Some have wingspans that reach 12 feet.
Jayhawk Model Masters, which has been around since the 1970s, meets the third Saturday of every month at the Hy-Vee on Clinton Parkway with breakfast at 8 a.m. and the meeting at 9 a.m. The group also instructs local youth (and adults) on how to fly model airplanes.
Copyright 2017 The Lawrence Journal-World. All rights reserved. This material may not be published, broadcast, rewritten or redistributed. We strive to uphold our values for every story published.