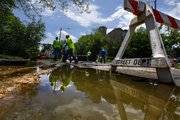 Both lanes of a three-block stretch on 12th Street are closed because of a water main break, according to a city news release.
Jeanette Klamm, of the city's Department of Utilities, said 12th Street is closed between Louisiana and Ohio streets, including the intersection of 12th and Ohio streets.
Klamm said the split caused some damage to the road, and crews will be forced to keep it closed "for the rest of the week, probably." The water line itself suffered an 8-inch split that will take four to six hours to repair.
Traffic control devices are in place to direct traffic. The water main in question was installed in 1930, Klamm said.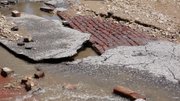 Copyright 2018 The Lawrence Journal-World. All rights reserved. This material may not be published, broadcast, rewritten or redistributed. We strive to uphold our values for every story published.