Photo Gallery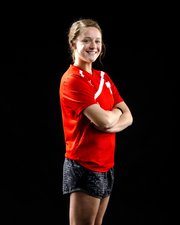 2014 Journal-World All-Area Girls Soccer
Portraits of members of the 2014 J-W All-Area Girls Soccer Team. (Not pictured: player of the year Maddie Dieker, Free State, and Maddie Butterfield, Mill Valley)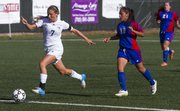 Player of the Year
Maddie Dieker, Free State
A playmaker and the focal point for the Firebirds' offense, Dieker helped Free State to an 11-7 record this season, scoring eight goals and adding a team-high 12 assists. Her impressive footwork, ball skills and touch caused plenty of problems for opposing defenses.
Coach of the Year
Arlan Vomhof, Mill Valley
Vomhof led the Jaguars to 11 wins against only eight losses this year, and their third straight Class 5A Northeast regional championship. After losing several seniors to graduation, Vomhof had a young Mill Valley team one win shy of a trip to the state tournament and in good position for future years.
First team
Aly Bartholomew, Tonganoxie — Bartholomew anchored Tonganoxie's defense, which posted seven shutouts this spring. The two-time All-KVL first-team selection has been a captain since her sophomore year and helped the Chieftains to a 9-8-1 record, the first time in school history they had two straight winning seasons.
Maddie Butterfield, Mill Valley — A first-team All-Kaw Valley League honoree, Butterfield was strong in the midfield with her strength and speed. The junior wingback also chipped in on the offensive end, scoring a goal and adding four assists.
Addison Campbell, Lawrence — Campbell was a spark plug for the Lions this season, scoring a team-high nine goals. The senior striker was a constant threat to score with her elite speed and toughness to fight through defenders, which helped LHS to six wins this spring.
Maddie Dieker, Free State — The University of Portland signee always looked like she was a play ahead of everybody else with her creativity to create chances for the rest of her teammates. Dieker also showed her versatility by playing strong defense and dominating the tempo in the midfield.
Abigail Fangman, Ottawa — Fangman scored eight goals and had five assists this year. Though the Cyclones had trouble scoring at times this spring, the junior was the most reliable scorer on the team, using her speed and strong understanding of the game to find the back of the net.
Jessica Ferguson, Free State — The Firebirds needed Ferguson to play a lot of positions this spring and the Gardner-Webb signee excelled at all of them. Ferguson scored eight goals, but also was a reliable defender and a strong midfielder.
Olivia Hodison, Free State — Hodison was a dominant force as a defenseman, helping the Firebirds record seven shutouts this season. The University of Missouri-Kansas City signee caused havoc for opposing forwards with her speed and toughness on the back line to stop attacks.
Kacie Kinley, Mill Valley — Kinley earned Class 5A first-team All-State honors, along with first-team All-KVL, as a freshman after scoring 10 goals and adding six assists this season. The midfielder played much older than her age with her vision and ball skills in the open field.
Michaela Remijio, Mill Valley — A first-team All-State and All-KVL selection, Remijio carried the Jaguars on offense with 20 goals this season. The Drury University signee didn't need much space to use her speed and put the ball into the back of the net.
Emily Soetaert, Tonganoxie — The Chieftains' all-time record holder in goals scored and assists, Soetaert had 10 goals and three assists in her final prep season. She earned second-team All-KVL honors this year and will continue playing at Kansas City Kansas Community College in the fall.
Honorable mention
Tanith Beal, De Soto; Crystal Carillo, De Soto; Danielle Campbell, Lawrence; Alex Ewy, Lawrence; Haley Freeman, Mill Valley; Hadyn Hutchison, Free State; Brianna Pfizenmaier, Ottawa; Tarah Phongsavath, De Soto; Madison Simmons, Tonganoxie.
Copyright 2018 The Lawrence Journal-World. All rights reserved. This material may not be published, broadcast, rewritten or redistributed. We strive to uphold our values for every story published.