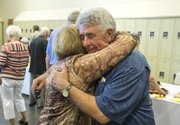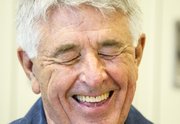 "We're all in this together."
Loring Henderson lived by those words during a long career of helping others, which culminated in the creation of a 24-7 homeless shelter for individuals and families in Lawrence. Several dozen members of the community showed they agree with that motto by coming to the shelter Sunday to thank Henderson, who retired at the end of last month, for all he's done for the homeless in Lawrence.
"I think the community as a whole owes an incredible debt of gratitude to Loring," said Douglas County Commissioner Mike Gaughan.
Nine years ago, Henderson, who had retired from a career in retail, public policy and social services, helped merge the two existing local homeless shelters into the Lawrence Community Shelter. He then led the charge for the construction of a new, larger shelter in southeast Lawrence in late 2012.
"Loring had the vision and the heart to guide us to the place we're at today," said Gail Vicks, president of the shelter's board of directors. She noted that the shelter helped 245 residents find permanent housing and another 97 find jobs last year, and that the new Loring Henderson Program Fund, which will provide revenue for initiatives to transition people out of homelessness, has already received $50,000 in donations.
Forrest Swall presented Henderson with an award on behalf of the Unitarian Fellowship of Lawrence, named for the late Lawrence philanthropist Tensie Oldfather. Swall said that Henderson, through his "quiet, passionate, patient, persistent leadership" was a "force enabling our community to come together."
The Kaw Valley Quilters Guild announced Sunday that it will build upon the work it did with Pat and Bridget Law to make quilts for all the beds at the shelter by sewing quilts specifically to raise funds for the shelter.
Roxanne Hayden, who has helped with the quilts, stayed at the shelter for six years before finding permanent housing in Lawrence. She said Henderson helped her through the difficult process of overcoming numerous health problems and getting back on her feet. She said he reminds her of her father, who had a similarly kind and quiet personality.
"My dad always wanted to do for people," she said.
Craig Sweets, longtime editor of the Change of Heart street newspaper in Lawrence, recalled an occasion at the old shelter when Henderson, quoting the monument on the Statue of Liberty, said, "Give me your poor, your tired, your huddled masses yearning to breathe free."
"Homelessness never takes a timeout, and Loring rarely did," Sweets said. "I'm going to miss him."
Asked what makes Henderson such a caring leader, shelter administrative assistant Dianne Huggins pointed to her chest.
"His heart," she said. "It comes from love."
In the spirit of his comment that "We're all in this together," Henderson thanked the city, county, donors, volunteers, staff, the shelter's board of directors and the general public for helping the homeless in Lawrence.
"This is very much a community shelter," he said, one that, through a variety of programs, works to transition homeless people into productive lives. He noted that there's still work to do — increasing access to housing, continuing to educate the public about homelessness — but said, "Thank you for everyone who has made this a place for people to come be treated in a dignified way and have their lives improved."
Henderson added that just because he's retiring doesn't mean he's going away.
"I look forward to still being in Lawrence," he said. "Lawrence is still my home."
Copyright 2018 The Lawrence Journal-World. All rights reserved. This material may not be published, broadcast, rewritten or redistributed. We strive to uphold our values for every story published.