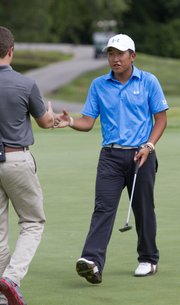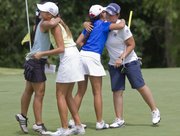 As former Kansas University golf star Gary Woodland continues his quest to become one of the top players in the world, the Topeka native has made sure not to forget about the generation of young golfers hoping to follow in his golf shoes.
That much was evident this week at Alvamar Country Club, where Woodland co-hosted an American Junior Golf Association tournament with Under Armour that wrapped up Thursday after 54 holes over three days and a one-hour rain delay during the final round.
As the 96 boys and girls in this year's field made their way off the course, many of them flashed signs of obvious joy over having competed in an event tied to one of professional golf's hottest up-and-comers.
One girl boasted to her mother about the Gary Woodland-autographed tournament flag she took home — each competitor in the field received one of those — and another fiddled with the new magnetic Jayhawk ball marker on her hat. Event organizers said several participants cherished the group and individual photos Woodland posed for and the skills clinic he put on Monday night before the tournament began.
"Having this be Gary Woodland's adopted hometown certainly made it a great event from our perspective as well as the players and their families," said tournament coordinator Josh Kalita. "It was great to have him out. He was absolutely wonderful with all the players."
Few players were as happy as girls winner Himawari Ogura, of Japan, who has finished in second place during so many tournaments back home but at Alvamar finally broke through for her first AJGA victory.
Answering questions through an interpreter, Ogura shared some complimentary thoughts about Kansas shortly after firing a 3-under 69 on Day Three and a 3-over 219 for the tournament to win by four strokes over Cynthia Diaz of Colombia.
"Yes, definitely," she said when asked if Kansas was her favorite American state. "It's second only to Japan."
Ogura hit 17 of 18 greens in regulation, 12 of 14 fairways and did not three-putt a single green all day. She played the front nine 1-under-par and, despite worrying about the rain delay slowing her down, shot 2-under-par on the back nine.
Her strong finish and victory nearly made her forget all about being soaked a couple of hours earlier.
"She's too happy to even think about that right now," her interpreter relayed. "She can't express how happy it makes her to win this tournament."
Another Japanese player won the boys title, as Koichiro Ishika shot a 2-under 70 Thursday to finish at even par for the tournament, four strokes better than Topeka's Andrew Beckler, one of 22 Kansans in the field.
Like Ogura — who hails from Koutou, Japan — Ishika, of Kakogawa, Japan, won for the first time on the AJGA circuit.
Ishika trailed after the opening round and needed every bit of his 2-under 34 on Thursday's back nine to secure the victory.
"I didn't want to be in first before the last day," said Ishika, who also spoke through an interpreter. "I wanted to catch up to someone and win."
Kalita said he received positive feedback from several participants about the Alvamar course, which, Kalita said, offered a strong challenge without being too difficult.
"This course was certainly right on par with what we see most weeks," he said. "Each course holds its own individual challenges, and this one was no different. It was a great experience. Lawrence and Alvamar Country Club were outstanding hosts."
Copyright 2017 The Lawrence Journal-World. All rights reserved. This material may not be published, broadcast, rewritten or redistributed. We strive to uphold our values for every story published.