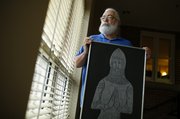 Also Friday
After the art center's show, the Baldwin City Community Theatre will perform its summer musical "The Phantom Tollbooth" in the Lotatorium east of the Lumberyard at 8 p.m.
Nearly three dozen rubbings of European monuments and tombstones dating as far back as the 1400s will be on display and for sale for the next month at Lumberyard Arts Center, 715 High St., in Baldwin City.
The collection's opening will be from 6 to 8 p.m. Friday and it will remain on exhibit 1-4 p.m. Tuesdays through Fridays and 9 a.m. to noon Saturdays until July 12.
Gary Browne, an antiques appraiser and former Baldwin City resident, collected the pieces from a Garnett family. Browne called the opportunity to see what amounts to actual-size recreations of the tombs' and monuments' ornate designs "pretty intense."
"To actually see in person the exact replica of older tombs and tombstones and monuments is really something," Browne said.
Friday's opening will be part of an evening of activities in downtown Baldwin City to celebrate the 100th anniversary of the Ives-Hartley Building, a landmark building converted in 2010 to house the arts center. Cake will be served and yardsticks will be distributed to mark the building's first 100 years.
Browne said the rubbings were created using a piece of tissue paper pressed against the design with the image created using a colored pencil, chalk or crayon. The matron of the Marine Corps family from which Browne collected the pieces created the works while stationed in London in the early 1970s.
"Each one could take literally hours," he said.
Among the images depicted are knights in armor and ladies in the garb of the day. Swords, animals, flowing dresses and Edwardian collars round out the spectrum of designs.
The pieces range in size from four- to six-feet tall and are priced between $20 to $275, with a portion of the proceeds going to the gallery. Browne said each piece is matted and some are framed.
But why take the time to create a rubbing instead of a photograph or sketch?
"Sketching it out is the art's interpretation: the transfer from the eyeball to heart to hand," Browne said. "This is the exact replica of the actual tomb."
Copyright 2018 The Lawrence Journal-World. All rights reserved. This material may not be published, broadcast, rewritten or redistributed. We strive to uphold our values for every story published.