Photo Gallery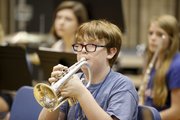 Midwestern Music Camp at Kansas University
Saxophonist Philip Kaul attended the Midwestern Music Camp at Kansas University as a student in middle and high school. Now the 19-year-old is studying music education at KU. And he's back at this camp this month, as a counselor, advising the latest generation of campers.
It's a familiar path for many area band, orchestra and choir students, who come to the music camp as youngsters and return to KU to study. Even the dean of KU's School of Music, Robert Walzel, participated in the camp as a middle schooler from Texas.
For 79 years, the KU music camp has been training young musicians from Kansas and beyond. "There aren't a lot of summer music camps that have run continuously for that long," said camp coordinator Leslie Jabara.
Nearly 400 students from about a dozen states will attend this year's camp, which is divided into three parts: middle schoolers this week, high-school students next week and jazz band members in July. The classes are taught by KU faculty, local public school teachers and private instructors.
"It's one of the premier camps in the region," said camp director Matthew Smith, the associate director of bands at KU. "One thing that sets us apart is the quality of the music the kids produce."
That music can be heard at public concerts the students perform at the end of each camp.
Kaul, of De Soto, started going to the Midwestern Music Camp in 2007, when he was in middle school. "Seventh grade was my first year and I fell in love with it and came back for five more years," he said. That first year, he was taught saxophone by a KU professor who now instructs him as a college student.
The experience not only cemented Kaul's love for music but for KU as well.
"I had a pretty good idea I wanted to do music, but coming here and building relationships with all these people helped me make that decision," he said. "I also became familiar with KU and knew this was the place I wanted to go. I didn't even apply anywhere else."
As a counselor, Kaul loves watching the kids evolve, as he once did, musically during the course of the week. "They grow up before your eyes," he said.
Copyright 2018 The Lawrence Journal-World. All rights reserved. This material may not be published, broadcast, rewritten or redistributed. We strive to uphold our values for every story published.