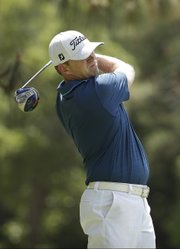 Pinehurst, N.C. — Too often, the longest walk in golf stretches from the driving range to the first tee. And since it was the U.S. Open, where everything is longer and tougher, Thursday it became the longest walk of Chris Thompson's life.
Somewhere on that stroll, Thompson lost his mojo, then quickly started losing strokes to par. The scorecard he signed had an atypical 80 on it, placing him 153rd among 156 competitors.
"I hit balls for about an hour before the round and it was probably the best I've ever hit the ball in my life," Thompson said. "But it's been that way on the range most of the week. I don't know if I'm getting misaligned on the course or I'm a little quick, but I just can't start the ball out where I'm looking. I'm hitting it left and when you start hitting it left, you start trying not to hit it left. It's just not a real fun way to play golf."
Thompson bogeyed three of the first five holes, a rough start, but not nearly as tough for him to take as his finish. After steadying himself with six consecutive pars to head into No. 12 at three-over par, Thompson went six holes in succession without a par, carding bogey, double bogey, birdie, bogey, double bogey, double bogey, before finishing with a par on No. 18. That's three doubles in a five-hole stretch.
"I just kind of felt like I was holding it together with duct tape the whole time and then I just completely lost it at the end," Thompson said. "Even at five-over through 14, I felt like, 'Get one more birdie coming in, do some damage control, get it to 74 and that's not on the leaderboard, but it's not going to kill you.' I just wasn't able to do it."
Last month, in the first PGA Tour event of his life, Thompson, 37, made the cut in the Byron Nelson Championship and finished tied for 62nd.
"It's disappointing because you can't recover from 80," he said. "If I could have gotten in at 74, 75, then you feel like you have something to play for. I'm still going to play as hard as I can play and maybe something really good will happen."
Thompson considers his driving ability — he averages in the 280-plus off the tee and is more accurate than long — and his short game his two greatest strengths.
He averaged a solid 284 off the tee (tied for 60th), but hit just 8 of 14 fairways (57 percent, tied for 122nd.)
"If you don't drive it well, you don't have much chance out here, and I certainly didn't drive it well today," Thompson said. "(My) short game usually bails me out when I'm not playing well, and it was probably the worst I've ever played around the greens. So it was pretty disappointing."
He was on the wrong course, punitive Pinehurst No. 2, to have a bad day with the driver and around the greens.
"There's not a harder course that I've played," he said. "Even my good shots were ending up in bad spots. I certainly didn't play great in the practice rounds, but I drove it great. Today, I didn't do anything well. The same things hurt me, not controlling distances real well. But a lot of that was due to driving it into the weeds. It's hard to control your distances out of sand and grass and bushes."
Thompson, who played in the last group to tee off No. 1 Thursday, is scheduled to tee off No. 10 at 7:57 a.m. CDT today.
Copyright 2018 The Lawrence Journal-World. All rights reserved. This material may not be published, broadcast, rewritten or redistributed. We strive to uphold our values for every story published.