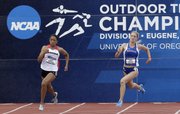 Eugene, Ore. — Kansas University junior Lindsay Vollmer sits in second place after the first four events of her heptathlon title defense, Thursday at the NCAA Outdoor Track and Field Championships.
Vollmer, who won the 2013 national title with a school-record 6,068 points, has 3,493 points — 192 points behind Georgia's Kendall Williams — with three events remaining. Vollmer placed fifth in the 100-meter hurdles, eighth in the high jump, sixth in the shot put, and seventh in the 200. She will try to make up the deficit this afternoon in the long jump, javelin and 800.
Maroszek sixth in discus
Senior discus thrower Jessica Maroszek earned first-team All-America honors for the third time in her KU career.
Maroszek placed sixth on Thursday with a throw of 54.78 meters (179 feet, 9 inches). Maroszek finished eighth her freshman year and fourth last year as a junior.
Men's 4x4 falls short
The Kansas men's 4x400 relay team — sophomore Drew Matthews, senior DeMario Johnson, sophomore Jaime Wilson and junior Michael Stigler — ran a 3:12.22 and did not advance out of the semifinals.
Stigler, who ran the top qualifying time in the 400 hurdles on Wednesday, is the only Jayhawk men's athlete still in competition in Eugene. He finished runner-up last year at the NCAA Outdoor and will compete in the 400 hurdles final tonight.
Copyright 2018 The Lawrence Journal-World. All rights reserved. This material may not be published, broadcast, rewritten or redistributed. We strive to uphold our values for every story published.