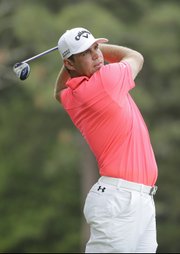 Pinehurst, N.C. — Gary Woodland took a 6-iron to the tee on the 213-yard 17th-hole at Pinehurst No. 2 and hit it high and on the pin. He heard the excitement of the crowd building and then a loud moan and then a thundering ovation.
When he walked onto the green, a fan in the stands hollered "Gary!" and everybody roared approval one more time.
"I saw the people in the stands jump up, so I thought I had a pretty good chance," Woodland said. "Anytime they jump up, it's pretty exciting. I got there and I was surprised to see where it was."
It was right behind the cup, a clear indication that it came ever-so-close to going in.
It put him 1-under par eight holes into his round, where his score remained through 10 holes.
But spending too much time in the waste area — a mixture of sand, wire grass and weeds — that hugs both sides of the fairway caught up to him down the stretch and he bogeyed four of his final eight holes, including the final two, Nos. 8 and 9.
When you see Woodland on the TV commercials, he's hitting a driver. Ditto for magazine covers.
Yet, for Thursday's round, when he shot a 2-over-par 72, putting him in a tie for 50th, the driver was the club that betrayed him on an otherwise impressive day.
Woodland hit just 4 of 14 fairways, a 29-percent driving accuracy that ranked him dead last in the field of 156 golfers. That Woodland, 30, could do that and still be just four strokes out of second place is a testament to how well the rest of his game has progressed, but he wasn't celebrating afterward.
"I'm a little hot right now," Woodland said shortly after finishing his round. "I've got to drive it in the fairway tomorrow. Outside of that, the game's great. I putted it great. Just get the ball in the fairway and I should be pretty good."
In addition to the near ace, he carded a 2 on the 192-yard No. 6. He also birdied No. 12, a 446-yard par four on which he pounded a drive right down the middle of the fairway.
He had five bogeys, four of them on par-4 holes, one a par 3.
"I was driving the ball well, I just couldn't make the angles," he said. "I was maybe gripping it a little too tight, maybe I was pressing too much. I relaxed there on the last driver I hit and I hit it pretty well, so I've just got to relax a little bit."
Maybe seeing a familiar face walking with him today will loosen his grip on the driver.
Kim Richey, Kansas Golf Association executive director since 1993, has worked at 16 U.S. Opens. He will serve as rules official for Woodland's threesome, which includes fellow long-ball hitters J.B. Holmes and Graham DeLaet. They are scheduled to tee off No. 1 today at 6:51 a.m. CDT.
Many golf tournaments like to group players with common traits for the first two days of the tournament. Distance off the tee bonds this group. Woodland voiced no complaints about the grouping.
"It helps a little bit on par threes because we can club off each other," Woodland said. "That's the big deal. We've got four holes out there where we can hit irons the same distance."
Obviously, Richey can't bend any rules for Woodland, but like most Kansas golfers, Richey's a big Woodland fan.
"For a long time, Kansans had Tom Watson to watch, root for and follow," Richey said. "Obviously, it's been a long time since Tom played on the regular tour, so it's really special to have somebody like Gary, who still calls Kansas his home and lives in Lawrence in the summer."
Richey stands in a long line of golf enthusiasts who believe Woodland will continue to improve.
"I really have this feeling that Gary's going to hit it big," Richey said. "He's almost there now. I go around the country and people know who he is. I think he's got a major in his future."
If Woodland can get his driver back on track today and through the weekend, the future could arrive quickly.
Copyright 2018 The Lawrence Journal-World. All rights reserved. This material may not be published, broadcast, rewritten or redistributed. We strive to uphold our values for every story published.