Contact KU and higher ed reporter Sara Shepherd
Have a tip or story idea?
---
More stories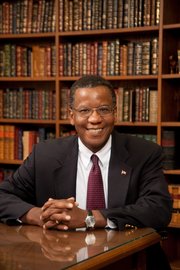 Kansas University has named Reggie Robinson, a KU law school alumnus with an extensive background in academia and public service, as the new director of its top-ranked School of Public Affairs and Administration.
Robinson graduated from KU with his law degree in 1987. Currently he is a Washburn University professor of law and director of Washburn's Center of Law and Government.
Robinson has also served as president and CEO of the Kansas Board of Regents and chief of staff to former KU Chancellor Robert Hemenway. In federal public service, Robinson was a White House fellow in 1993 and served in senior positions with the U.S. Department of Justice, including deputy associate attorney general.
KU picked Robinson after a nationwide search to replace current school director Marilu Goodyear, who will step down after nine years to be assistant vice chancellor for academic programs at the Edwards Campus in Overland Park.
"He knows how to move policy and institutions forward, often turning obstacles into opportunities," said Steven Maynard-Moody, a professor of public administration and affairs and chair of the search committee.
The school's graduate program was ranked fourth best among public affairs schools in the 2015 U.S. News and World Report's list of "Best Graduate Schools."
Copyright 2018 The Lawrence Journal-World. All rights reserved. This material may not be published, broadcast, rewritten or redistributed. We strive to uphold our values for every story published.