Photo Gallery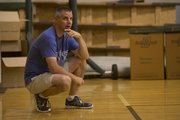 FSHS boys hoops (6-11-2014)
The Free State High boys basketball team's summer practices don't feature many familiar faces who helped the school to the Class 6A state tournament in 2013 or a regional title game in March.
Seven Firebirds seniors graduated, leaving little varsity experience on the squad heading into the upcoming season.
For some teams, that unknown can be terrifying. However at Free State, plenty of players and coaches are embracing it.
"It's definitely a lot different," senior Weston Hack said. "We lost a lot of leadership, a lot of talent from last year. A lot of young guys are going to have to step up.
"But I think we've got a good chance to be pretty good."
Free State played at the MidAmerica Nazarene University team camp last weekend, and had a lot of positive results with its new team. The Firebirds took third place, with a 3-2 record, including a victory against a Sunflower League foe, Shawnee Mission South.
Free State will play in the KAMO boys' team shootout this weekend at Shawnee Mission West, getting at least six games of action.
The Firebirds have also been busy for the past two weeks in twice-a-week summer workouts.
"They're going good," senior Justin Narcomey said. "We're getting up and down. I mean, that's how we're going to be playing, we don't really have a big man this year. We're just going to be run-and-gun, make threes, and drives. It's going to be fun."
With lots of new faces, that just means there are more opportunities for others to shine. Last year's junior varsity, sophomore and freshmen teams all won the majority of their games. Despite many players adjusting to the speed of the varsity level, there's potential for success.
"We're excited about it," FSHS coach Chuck Law said. "We've got some guys who can play and guys that are kind of flying in under the radar that very few people know about. That's sometimes the best kind of team. Expectations are not going to be particularly high for this group and that's fine.
"Hard work and effort can help you overcome a lot of things on the basketball court and obviously in life," Law added. "These guys bring a work ethic that's very encouraging."
This summer and upcoming season will also be a big change for the team's seniors. They didn't have to step into those leadership roles in the past with last year's graduating class dominating playing time for two or three seasons. Now, it's their time to shine, and they think they're up for it.
"We're going to have to really support one another," Law said. "We're really, really going to have to play well together as a unit. We don't have the dynamic individual pieces that maybe we've had the past few years, but as a team if we can stay together and be cohesive, I think we have a chance to be a good basketball team."
Copyright 2018 The Lawrence Journal-World. All rights reserved. This material may not be published, broadcast, rewritten or redistributed. We strive to uphold our values for every story published.