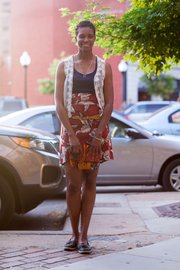 Name: Danielle Brooks
Age: Young and hip!
Hometown: New Orleans
Time in Lawrence: Just moved back from overseas.
Occupation: Architect
Dream job: I'm doing it!
What were you doing when scouted? Shopping
Describe your style: I would just call it "eclectic chic." Hairstyle-wise, I love the natural look.
Fashion trends you love: I don't follow brands or trends. I love when people do things when they are inspired to do them, not just because they are following a specific trend. It's good to get inspiration from a Lookbook or a window display mannequin, but make it stand out by allowing your own expression to come through.
Fashion trends you hate: Most people who wear "skyscraper height" platform heels seem to be performing a balancing act, which completely negates any air of confidence they may have. However, I believe in people just doing their thing: If that's something that they like, then they should just go for it!
Fashion influences: I'm both self-inspired because it's my God-given talent and by the creativity of other fashionable people I encounter. I'm also inspired by God's beautiful handiwork in nature.
What would you like to see more or less of in Lawrence? There's a lot of live music here, but Lawrence needs to host more genres like soul music singers on a regular basis. Less of? Narrow views of what diversity means and looks like in the community.
Tattoos or piercings: Nose ring
Whom do people say you look like? Believe it or not, somebody told me that I look like Whitney Houston especially when my hair was longer. I heard that a lot when I was in Germany.
What type of music do you like? Gospel, neo-soul and New Orleans brass band music.
Tell us a secret: The secret to great skin is aloe vera juice. Nothing fancy!
Copyright 2018 The Lawrence Journal-World. All rights reserved. This material may not be published, broadcast, rewritten or redistributed. We strive to uphold our values for every story published.