I think I've mentioned before that swimsuit shopping isn't my favorite thing to do.
They never seem to fit right, and I always end up trying on several different styles, none of which satisfy my liking. By mid June, I typically have no choice but to buck up and buy one.
Elizabeth, however, finds enjoyment out of picking out the perfect swimming suit, something that's very foreign to me. Her motto is to buy a few different suits that are affordable and splurge on other summer essentials like sunglasses, which makes sense considering you'll only be wearing them for a few months out of the year.
Putting our swimsuit shopping differences aside, we've come up with a list of pieces you'll need to step up your style game in the rising temps.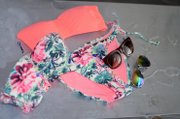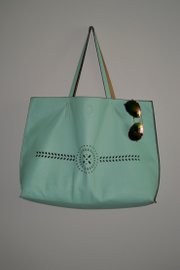 The Suit
One-piece or two-piece, that is the question.
One-pieces are back in a big way this season. They come with cutouts, jeweled and embellished, and with all kinds of straps going every which way. We love a bold one-piece, but we suggest wearing one with a lot of embellishments for a fun vacation.
If you're looking for an everyday one-piece, find one that's simple with minimal sparkle and crazy strap designs. Target has a lot of great one-piece options that would be appropriate for every day. They have everything from juniors to maternity styles.
We tend to lean toward two-piece suits because you can mix and match the tops and bottoms. Elizabeth stocked up on her suits from Target.
Shades
As I said, we like to splurge on sunglasses because we wear them year round.

Everything from mirrored aviators to oversized round frames are in this season. We prefer larger frames to shield us from the sun, and we will also throw in the aviators from time to time.
Tote bag
You'll need a bag to carry all your things (sunscreen, towel, water bottle, etc.) when you're off for a day at the pool.
You're in luck because all the large tote bags out there are so cute and affordable! Again, check at Target if you don't want to break the bank, but still find something that's trendy. Gap also has some cute tote bag options. A woven straw, jute or canvas bag is the best way to go, that way it won't be ruined by a little splash of water.
Sandals
There's nothing worse than walking barefoot on blazing hot concrete, making sandals essential for pool days.
I'm all about the comfortable, flat-style sandals for an everyday outing; however, opt for fun wedges if you're off to a relaxing beach vacation. Look for simple sandals with strappy details, but that won't be ruined when wet.
Haven't you heard? The jellies are back! But not in a tacky, cringe-worthy kind of way, we promise. We've seen gorgeous metallic colors and simple flip-flop designs. These are the perfect material to wear to the pool.
Although we have yet to make a purchase of the beloved jellies, I have a feeling they will be appearing in our closets soon!
— Emily and Elizabeth Kennedy are twin sisters and fashion bloggers who share a blog called Fashion Column Twins. Emily writes this column. They can be reached at fashioncolumnblog@gmail.com.
Copyright 2018 The Lawrence Journal-World. All rights reserved. This material may not be published, broadcast, rewritten or redistributed. We strive to uphold our values for every story published.