Photo Gallery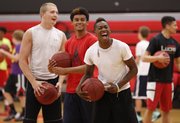 Lawrence High boys basketball summer camp
Not many boys basketball teams in Kansas can match the depth, experience and talent that Lawrence High will boast next season.
The Lions return 88 percent of their scoring from last year's 17-5 team, which lost in the regional championship.
They just started summer workouts last week, but they're also raising expectations for next year.
"Nothing less than a state championship, honestly," senior Anthony Bonner said of the team's goals.
"We definitely want to get one in our last year here," senior Ben Rajewski added. "I feel that we have the talent to get there."
LHS coach Mike Lewis didn't want to temper those expectations, but he also knows it's a long way until the first game in the winter.
"You might as well shoot for the stars, right?" he said with a wide smile. "That's obviously a goal that all teams want to achieve. We've got a good, hard-working group of seniors and we've got good young guys coming up. You just want to play hard and put yourself in a position where you're getting better."
Bonner, a Colorado State commit, highlights a loaded backcourt with Rajewski, senior John Barbee and junior Justin Roberts.
In the front court, junior Price Morgan is back at center and several Lions have been impressed with junior Fred Brou and senior Logan Applegate, who both came off the bench last year in limited roles but have looked much improved at the workouts.
"Their post moves look crisp, they're getting off the ground, getting rebounds," Bonner said. "They look really tough in there. ... Size we lacked that a little last year but they're looking real good."
LHS is practicing twice a week during the summer. They scrimmaged against each other after working on plays Monday, and though some players continue playing in the spring and summer through AAU basketball, they didn't miss a beat when playing with familiar faces.
"I love it. The chemistry is already there," Rajewski said. "Everything is meshing so well right now and it's so early. It's going to be explosive later."
Around 50 high schoolers have shown up for workouts, Lewis said, but the varsity squad plays together while the underclassmen work at the same time in a different gym after a joint warmup. It's a way to open up more court space and keep cohesion between teammates.
"I've been extremely happy," Lewis said. "We've been as energetic and feeling good as we've been for a long time. The guys came in and they're ready for the summer."
The Lions will travel to Creighton University for a team camp Friday and play at least six games over the weekend. Next week, they'll play in the Bill Self team camp at Allen Fieldhouse.
LHS is fielding both junior varsity and varsity squads at the Bill Self camp, and hopes to accomplish plenty while there and this week in Nebraska.
"You're able to work on a number of things," Lewis said. "It's just a great opportunity to play ball and put guys in different positions and try new things, just get out and play as a team. It's fun, and to take a trip up to Creighton, it's a great time to get out of town and take a road trip and have some fun with that."
As most teams will likely head to the team camps hoping to have players learn the systems and become familiar playing with another, the Lions have their eyes on a much bigger prize.
"At least in my mind — and I know a lot of the guys' minds — we believe we can win a state championship," Bonner said. "We don't believe we should come short of that."
Copyright 2018 The Lawrence Journal-World. All rights reserved. This material may not be published, broadcast, rewritten or redistributed. We strive to uphold our values for every story published.