Contact KU and higher ed reporter Sara Shepherd
Have a tip or story idea?
---
More stories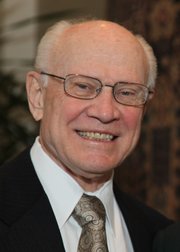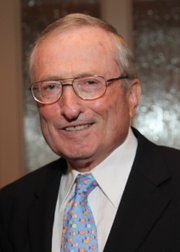 Two former Kansas University chancellors and their wives have created a new professorship to reward outstanding teaching at the Kansas University School of Business, KU announced Tuesday.
Archie Dykes, KU chancellor from 1973 to 1980, and his wife, Nancy, along with Gene Budig, KU chancellor from 1981 to 1994, and his wife, Gretchen, have established the Dykes-Budig Teaching Professorship in Business, which had its first recipient this spring.
The one-year professorship provides additional salary and travel support to the compensation of a research professor in the business school, according to the school and the KU Endowment Association. The professorship is supported by a $100,000 gift managed by the endowment association.
KU business school spokesman Austin Falley said recipients are chosen based on course and instruction evaluation data as well as on student surveys from capstone courses. The aim is to encourage and reward teaching skill and to attract top talent to the school.
This year the school awarded the professorship to Suman Mallik, an associate professor of supply chain management and decision sciences.
Mallik, who joined KU in 2008, was "wildly" ahead of his peers in the metrics the school uses to measure teaching excellence for the professorship, Falley said.
Dykes said in a statement that he was impressed with the progress of the business school under Dean Neeli Bendapudi
Budig said the school was "essential to the future of Kansas."
"KU has never been more important to so many," Budig said.
Dykes and Budig were KU's 13th and 14th chancellors, respectively.
Copyright 2018 The Lawrence Journal-World. All rights reserved. This material may not be published, broadcast, rewritten or redistributed. We strive to uphold our values for every story published.