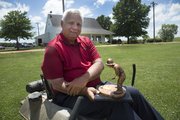 Eudora — Every golfer has his or her favorite course. For Twin Oaks proprietor/groundskeeper/instructor Jeff Burey, that course is Pinehurst No. 2, site of this week's U.S. Open.
Burey spent most of his four years (1977-1980) at Pinehurst, located in the Sandhills of North Carolina, as head golf professional. There were six courses on the resort then, eight now. Pinehurst No. 2 stands above the rest.
Burey packed many great memories into his four years, the best being his and wife Cathy's wedding ceremony at Village Chapel, located off the second tee. Another: He played all six courses, that's 108 holes, in one day with a friend to generate publicity.
"Pinehurst No. 2," Burey said, "Donald Ross' masterpiece, the Mona Lisa of golf."
When he talks about it, he sees the dogwood trees, smells the azaleas and magnolias, hears the wind all over again.
"It's 100 miles from the Atlantic Ocean and you hear the sea breezes through the pines and you think you're hearing waves crashing," he said. "Spectacular."
Naming his favorite course is easier than naming the best hole on his favorite course.
"Most golf courses have a signature hole," he said. "With Pinehurst, every hole is a signature hole."
Burey, who also teaches a golf class at KU during the summer, is excited that the U.S. Open will be played at his old professional home and loves that two former KU golfers — Gary Woodland and Chris Thompson — are in the field. He wishes he could be there, but he and Cathy are expecting their third grandchild, so they'll settle for watching it on TV.
Since Burey's days as pro, Pinehurst has undergone some changes. Some holes have been lengthened. The thick Bermuda rough has been replaced by what Burey called "native sand, native grasses. It's basically sand-waste area with clumps of grass in it. They're going to be driving the ball as hard as they can and they would rather play from a firm, sandy lie than Bermuda rough."
Despite all the face lifts, the heart and soul of Pinehurst — greens that demand precise approach shots — have remained pretty much the same through the years.
"The greens are like bowls turned upside down," Burey said. "Take about a third of that green, on all four sides, if your ball is there, it ball rolls back at you (won't hold the green). You have to hit the ball to the middle of the green to be able to putt. Otherwise, it rolls off the green and you have a very difficult chip, pitch or putt up a slope 4 1/2, 5-feet high, then stop it so it doesn't roll off the other side."
Burey recalled watching Tiger Woods playing a hole at Pinehurst in the 1999 U.S. Open as he watched on television in the grill room at Wolf Creek. Woods blasted his green, drawing within 90 yards of the pin, but Burey predicted a bad outcome. Sure enough, Tiger bogeyed the hole after his shot into the green landed on the green but rolled off the front of the green, landing 35 feet short. He chipped it near the pin and it spun back and didn't stop rolling until it came all the way back to his feet.
"Drove it to the wrong place," Burey said. "He had to hit it right and he hit it left. There are sucker shots all over the course."
Mere mention of the word Pinehurst to Burey sends the memories flooding back.
He walked inside the ropes for every shot of Hale Irwin's 62 at Pinehurst in the 1977 Hall of Fame Classic. When Burey was pro at Pinehurst, Irwin, Ray Floyd and Tom Watson won that tournament. Burey was assigned the task of taking notes when Sam Snead toured the course to give feedback to the crew in charge of one of its restorations, so that they could reverse the changes nature had made.
Through all the course alterations, Burey has seen the same type players negotiate the course that puts an emphasis on a golfer's course management, his strategy.
"I would say the players who have always played the best at Pinehurst are the players who can play their very best with the most pressure," Burey said. "The green complexes are so important that those shots become nail-biters."
Asked how he thought the course set up for Thompson and Woodland, Burey said he did not know much about Thompson's game.
"I think Gary Woodland is going to have an excellent opportunity to do really well," Burey said. "His length is a real asset. He's going to be hitting short clubs to holes that normally require long clubs. If his wedge play and his short-iron play are good, I think he's going to have a really, really good tournament. Of course, he does just about every week now anyway."
Woodland, 30, came out of last weekend ranked 22nd on the PGA Tour money list with $2,043,012.50 in earnings this season. Thompson, 37, has handled pressure well during this, the most important streak of his career. He made a 15-foot putt on the first playoff hole in a the Monday qualifier for the Byron Nelson Championship to survive to the next hole and birdied the third playoff hole to qualify for a PGA Tour event for the first time. He made the cut with three strokes to spare and earned $14,599. Eight days after earning that check, he qualified for the Open for the first time by placing third among 63 golfers at a 36-hole, one-day sectional qualifier in Springfield, Ohio. He birdied the first two holes and needed to par the 35th and 36th holes to get into the field.
Burey's story about Tiger's shot rolling back to him should arm everyone in the field with the knowledge that if they hit a bad shot, it's not as if better golfers haven't done the same. The ones who can move their focus onto the next shot will fare the best, which, of course, never is a bad idea on any golf course.
Copyright 2018 The Lawrence Journal-World. All rights reserved. This material may not be published, broadcast, rewritten or redistributed. We strive to uphold our values for every story published.