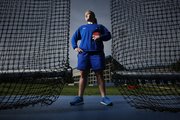 KU'S TOP 10 ALL-TIME WOMEN'S DISCUS THROWS
Athlete | Mark | Date
Jessica Maroszek, 60.18 meters (197 feet, 5 inches), 5/18/14

Jessica Maroszek, 58.01 (190-4), 6/23/13

Jessica Maroszek, 56.81 (186-4), 5/5/13

Jessica Maroszek, 56.73 (186-1), 6/5/12

Jessica Maroszek, 56.01 (183-9), 5/3/14

Jessica Maroszek, 55.9 (183-5), 4/25/14

Jessica Maroszek, 55.78 (183), 6/6/13

Jessica Maroszek, 55.6 (182-5), 4/5/13

Jessica Maroszek, 55.18 (181), 5/24/13

Abby Emsick, 55.13 (180-10), 5/31/03
At some track and field meets, a thrower can feel slighted. Plenty of spectators come not to watch the discus, shot put, javelin or hammer throw events, but to enjoy the bursts of speed on display around the track. Certain venues even render throwers less visible, sending them to compete outside of the stadium, away from the vast majority of the crowd and the spotlight.
Jessica Maroszek doesn't take such scenarios personally. The Seymour, Wisconsin, native is too laid-back and quiet in nature to make a fuss. Still, that doesn't mean the Kansas University senior carries any apprehension into this year's NCAA Outdoor Championships, at the University of Oregon's Hayward Field, where throwers will be as front and center as ever.
"It's awesome. You get the atmosphere of the crowd around you, and even if they are there for the running events, someone's gonna start a clap," Maroszek said. "They're gonna clap for you — that's with any field event."
She would know. Her fourth-place finish in the discus at last year's championship meet — also at Oregon — earned her All-America honors and helped KU win the 2013 national crown. When competing on that stage, Maroszek said, the crowd's applause, hoots and hollers let a thrower know a big mark is on the way — sometimes even before the chuck meets the ground.
"When you hit a big throw," she said, "you catch this huge adrenaline rush."
In her four years at KU, the 5-foot-9 thrower has delivered plenty of notable performances. Not only does she hold the school record in the discus with 60.18 meters (197 feet, 5 inches), but she also holds spots No. 2 through 9 in the record book. Plus, her two best shot put marks came this season and rank third (53-3) and fourth (52-10) in the Kansas archives. She's the Big 12's back-to-back champion in the discus and a two-time All-American.
When she was a seventh-grader, living on a farm in a small Wisconsin community, Maroszek got her start in throwing when her mother, Susan Schaumberg, recommended it as a former high school competitor. In middle school, Maroszek thoroughly enjoyed heaving the shot around.
"Discus, I was actually terrible in," she revealed. "It's kind of funny, because that's what I excel in now."
Even by the time she reached high school, Maroszek just couldn't fling her disc without it feeling awkward. When she completed her spin, the confounding plate wobbled out of her right hand and didn't fly far. Luckily for her, this athletic conundrum could be addressed with the same kind of attitude she took to milking shifts, feeding cows or driving tractors on her family's farm.
"You had no choice but to work," Maroszek said. "You've gotta work till the work's done. You can't just stop and pick it up the next day or something."
Soon, her discus practice time felt more competition than chore, and it was only a matter of time before she mastered that, too.
By her senior year at Seymour, college throwing coaches were scheduling in-home visits to pitch their programs. KU's Andy Kokhanovsky was one of the first to arrive. While other coaches talked about their personal accomplishments, Kokhanovsky brought along a poster of Germany's 1988 Olympic discus champion Martina Hellmann and told Maroszek: "This is the goal."
With Kokhanovsky intent on his recruit's improvement, she chose Kansas, and arrived on campus aspiring to become one of the nation's top throwers. By the conclusion of her freshman year, 2011, she was on the awards podium at nationals for placing eighth in the discus.
A "down year" as a sophomore kept her from reaching the NCAAs every season she competed at Kansas, but she bounced back in 2013 with her fourth-place finish.
Last month at the Big 12 Championships, she defended her discus title by setting personal, program and conference meet records all in one throw, when she broke 60 meters for the first time in her life — "It was kind of overwhelming," she shared.
Scheduled to throw for Kansas one final time on Thursday in Eugene, Maroszek feels like she's peaking as she attempts to become a three-time All-American in the discus. As a two-time placer, she realizes her competition — including top seed Kellion Knibb (61.34), a Florida State sophomore — hopes to out-throw her. Her plan is simply to enjoy another rare moment in the limelight.
"I don't necessarily want to put a number on it or specifically say that I want to do something," Maroszek said. "I think it's just like coach (Kokhanovsky) talks about — doing the best on that day with what you have."
Copyright 2018 The Lawrence Journal-World. All rights reserved. This material may not be published, broadcast, rewritten or redistributed. We strive to uphold our values for every story published.