Contact KU and higher ed reporter Sara Shepherd
Have a tip or story idea?
---
More stories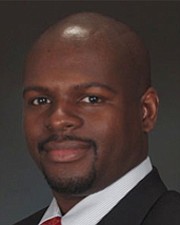 Kansas University has hired a new leader for it its Office of Diversity and Equity, KU announced Monday.
E. Nathan Thomas III, who has worked as a diversity consultant for Invictus Human Capital Management and was founding director of the University of South Florida Polytechnic's Campus Diversity office, will begin July 14 as KU's vice provost for diversity and equity.
KU chose Thomas after a national search this spring. He will replace Fred Rodriguez, who retired in summer 2013.
Thomas will spearhead efforts to raise the recruitment, retention and professional development of underrepresented faculty and staff at KU. That will include developing a plan to promote diversity across university departments and offices as well as metrics for measuring outcomes.
As director of USF's Campus Diversity office, Thomas helped establish a mentoring program, a strategic plan to increase diversity and a Diversity Advisory group of faculty, staff, students and community members that supported diversity initiatives and conducted surveys.
As a founding partner at Invictus, Thomas consulted on organizational culture, compliance and strategy in higher education.
Thomas earned a bachelor's degree in psychology and a master's in community and clinical psychology from Norfolk State University. He received a doctorate in ecological-community psychology from Michigan State University.
"I'm excited to grow the existing programs at KU and increase (a) sense of belonging for all Jayhawks," Thomas said in a statement.
Copyright 2018 The Lawrence Journal-World. All rights reserved. This material may not be published, broadcast, rewritten or redistributed. We strive to uphold our values for every story published.