Photo Gallery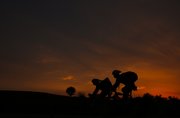 The Ironman 70.3
Images from the Ironman 70.3 race on Sunday at Clinton Lake.s
For the fourth time in as many years, an Australian claimed the men's professional title in the Ironman 70.3 Kansas at Clinton State Park.
James Seear's final time of 3:52:18 on Sunday topped the field of 1,300-plus competitors, which included athletes from 35 different countries. It was Seear's first time competing at Clinton Lake, but he received some advice on how to attack the course from 2013 winner Craig Alexander.
"It's an absolute honor. He's a legend of the sport, like a multiple world champ," Seear said. "He helps me out, he's a mentor to me. So to be able to follow in his footsteps and get a win the year after him, I'm very happy."
Seear trailed TJ Tollakson by more than two minutes entering the half-marathon, which serves as the final leg of the race. Tollakson, who made his own bike for Sunday's race, was faster than the field by nearly four minutes after the 1.2-mile swimming portion and the 56-mile cycling course, making it difficult for Seear and the other top finishers to keep up.
"Man, TJ hammered us on the bike, especially down the hills," Seear said. "I was like, 'Oh, man, we are going to lose like 10 minutes here.' But we managed to sort of keep him not too far (ahead)."
The gap between Seear and Tollakson didn't last long, but runner-up and fellow Aussie Todd Skipworth was on his Seear's heels from the start. Seear acknowledged that Skipworth might have won if not for one miscue.
"Unfortunately, Todd took a wrong turn, so it kind of favored me since he was running quicker than me," Seear said. "I was lucky and it was unfortunate for him, but he still managed to get second."
The victory was Seear's first on the 70.3 series, and he isn't waiting long to try for his second one.
"I'm a sucker for punishment," Seear said. "I've got a Boulder 70.3 next weekend and Syracuse 70.3 the weekend after. It's going to be brutal."
Brennan Morrey wins first pro race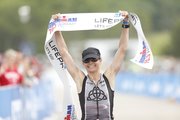 The champion on the women's side was also new to the Ironman 70.3 Kansas.
Ruth Brennan Morrey held off 2012 event winner and 2013 Ironman World Championship runner-up Rachel Joyce for her first 70.3 series win.
Brennan Morrey passed Joyce in the transition stage from the bike to the run, but knew she could not afford to let up during the half-marathon. The second-year pro admitted she may have taken an occasional peek behind her.
"Just once or twice or five or six times," Brennan Morrey said. "It was a really good course to see the competition and know kind of where you are at. It was a shoulder-look-over race for sure with Rachel on my heels."
The Minnesota native found herself toward the back of the women's pros pack after the 1.2-mile swim, but she surprised herself with how quickly she picked off competitors during the bike stage.
"Usually there is some complication that happens in most races for me, but this one was a flawless one. I was really happy about that," Brennan Morrey said. "The swim, I really had no idea where I was exiting the swim. My sister shouted something at me, but I really had no idea what she said. When I saw Amanda (Stevens) and Rachel at mile 25 on the bike, I was quite surprised."
Much like Seear, Brennan Morrey plans to increase the intensity for her upcoming race schedule.
"I'll be doing Racine 70.3 in Wisconsin and then hopefully the world championship," Brennan Morrey said. "Then I'll be doing my first full-Ironman at the end of September."
Copyright 2018 The Lawrence Journal-World. All rights reserved. This material may not be published, broadcast, rewritten or redistributed. We strive to uphold our values for every story published.