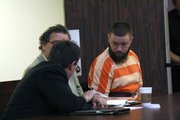 Ottawa — A Franklin County judge on Friday gave the attorney for Kyle Flack, charged in the 2013 shooting deaths of four people, more time to prepare a response to prosecutors' attempts to admit Flack's earlier statements to law enforcement officials.
"Defense is conducting its own investigation as to the facts and circumstances regarding these issues and said investigation is incomplete," Flack's attorney Tim Frieden said in his motion.
District Judge Eric Godderz set Aug. 29 to take up the motion concerning whether Flack's statements should be admitted during his trial, which has been tentatively scheduled for September 2015.
Also on Friday, prosecutors, who are seeking the death penalty against Flack, informed the court that they have issued a subpoena for the records of four cell phones.
During the brief hearing Friday, Flack, in jail garb and handcuffs, sat quietly beside Frieden, sometimes asking him questions.
Flack, 28, is accused of killing Kaylie Bailey, 21, of Olathe; her 18-month-old daughter, Lana-Leigh; Andrew Adam Stout, 30, of Ottawa; and Steven Eugene White, 31, of Ottawa.
In an earlier hearing, a Franklin County Sheriff's Office detective said that Flack had told him that he had killed White. But defense attorneys have argued Flack's statement shouldn't be considered during trial because he made it after asking the detective if he should get an attorney.
Prosecutors are seeking the death penalty against Flack for the deaths of Kaylie Bailey and her daughter, saying that Kaylie Bailey was killed "in an especially heinous, atrocious, or cruel manner."
Prosecutors have charged Flack with first-degree murder in connection with the slayings of Stout and White and will seek a "Hard 50" sentence in each case, which provides 50 years in prison with no possibility of parole.
The bodies of the adults were found in May 2013 at a rural house where Flack had once lived, about five miles west of Ottawa. The child was believed to have been killed there too, but her body was found in a suitcase in a creek in Osage County about 20 miles west.
Copyright 2018 The Lawrence Journal-World. All rights reserved. This material may not be published, broadcast, rewritten or redistributed. We strive to uphold our values for every story published.