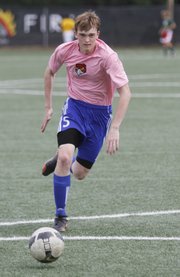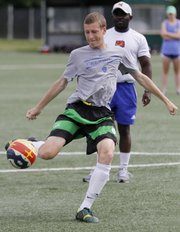 Free State High's boys soccer players won't put a lot of stock into their team camp this week. It's a long time until the season is underway and it's primarily a chance to acclimate freshmen to the high school level.
But there was still plenty of optimism when they talked about the upcoming year. Despite losing nine seniors, the Firebirds are confident they will be able to improve.
The five-day team camp ended on Friday, though players will continue to work out and scrimmage together throughout the summer.
"We'll fill those spots in," junior Will Laufer said. "Everyone is losing seniors. To counter losing all the talent we had last year, everyone is just going to have to step up and do their job every play. I think we'll be all right."
Free State went 6-10-1 last season, and had trouble scoring goals during a few prolonged stretches. The Firebirds attack the net with a team-style concept that has a heavy emphasis on controlling the ball, and they worked on it in camp.
"Today we're working on finishing," senior Carson Gilliland said. "We've worked on defense. In the afternoons, we do scrimmaging to work on what we did in the morning sessions. We've worked on our first touch, we've worked on passing, we've worked on basically on all the basics."
"It's never changed for us," FSHS coach Kelly Barah added. "It's the team aspect and the ability to pass the ball. If you don't have the ball then you can't do the things you want to do with it. We've always prided ourselves on taking care of it and so possession is our big thing."
More than 30 players showed up for camp this week, and it allowed a few players to impress their teammates with their sharpened skills.
"(Toufick Ahmmed) is much better and then Briceson Junge is much better as well," Laufer said. "Well, Briceson, last year, whenever he got the ball he kind of freaked out. This year he's a lot calmer. I think his club season helped a lot with that."
Though it's a long way until the real training camp begins in August, Free State's players feel that they have steadily improved since the end of last year, especially on the offensive end.
"Of course there's always progress," senior Buzz Walter said. "I mean, we're in the early stages of the season. We're hoping for a good attacking squad this season."
One reason there's a lot of confidence is most of the senior class played club soccer together in the spring and will do the same throughout the summer.
"We did lose some really good seniors, but I think that the seniors this year, we've all played together in club seasons so I think it would be a good continuation from the spring season since we've all played together," Gilliland said. "We know each other and know what we want out of it."
Copyright 2018 The Lawrence Journal-World. All rights reserved. This material may not be published, broadcast, rewritten or redistributed. We strive to uphold our values for every story published.