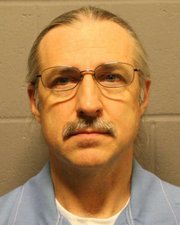 The retrial of a 2004 murder case in which a former carpenter and Christian school leader was convicted of killing his wife is scheduled to begin Dec. 8, but the defense said Thursday it may try to move the trial outside Douglas County.
Attorney Richard Ney, who recently began representing Martin Miller, said at a hearing that he will conduct a change of venue study. The case has received much publicity and there is an air of negativity surrounding it because it is going to retrial, Ney said.
The defense has until Aug. 22 to file the venue motion.
Miller, 55, was convicted of first-degree murder in the death of Mary Miller, 46, in Lawrence. The Kansas Supreme Court overturned the conviction in February for an incorrect written jury instruction. Miller had been serving a sentence of 25 years to life.
Miller appeared in court Thursday with Ney. He left jail in April on a $250,000 bond.
Thursday, Ney asked District Judge Paula Martin for nine months to prepare for the new trial, but Martin said that is unnecessarily long. The two went back-and-forth on the subject for a short period.
"I'm not going to argue with you about it," Martin said.
"Your honor, I'm sorry, I think (nine months) is reasonable," Ney said.
A trial is expected to last six days.
Copyright 2018 The Lawrence Journal-World. All rights reserved. This material may not be published, broadcast, rewritten or redistributed. We strive to uphold our values for every story published.