Photo Gallery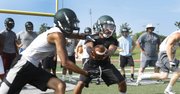 Free State High summer football camp
Free State High football coach Bob Lisher has seen his team practice twice this summer, and he's feeling upbeat.
Sure, the Firebirds lost plenty of starters and a lot of talent with last year's senior class, but Lisher is confident they can remain a contender in the Sunflower League for this upcoming season.
"Every year it's that way. I think our program is at the point now where we're pretty much not rebuilding, we're reloading," Lisher said. "We have good players we can stick in there to replace the guys. They won't have the experience, obviously, but they're good players, good athletes, tough kids."
One area where the Firebirds will have plenty of experience is the offensive line. They return three starting linemen from last season's 9-2 team: seniors Scott Frantz, Shane Hofer and Coleman Houk.
"Overall, I would say right now, because we returned three starters on the O-line, that we're hoping for some great things," Lisher said. "But it takes five guys up there, so we're looking for the other two."
"Both of them are up for grabs, both spots," Hofer said. "I think the tackle will be Jackson Reed, and he'll be good. He'll fill in good. At right guard, it's kind of a mystery right now, but anyone could fill it. We have three different people who could."
On defense, Free State returns starting nose tackle Josiah LeBrun, linebacker Carson Bowen and cornerbacks Joel Spain and Bryce Torneden. Despite big holes to fill in the linebacking corps, the Firebirds think hard work throughout the summer should help ensure a seamless transition.
"We've got a lot of new starters, a lot of new guys that need to fill in," Frantz said. "As everyone knows, we lost a lot of talent last year, but we've got the guys that will step up. We've just got a lot of new faces."
In the offseason, Hofer said the team's workouts in the weight room had 30 to 40 players a day. A few players said Reed, Tanner Liba and Josh Hout have impressed them with their new physiques.
With a large senior class this fall, the Firebirds want to ensure they're ready to dominate when the season opener against Shawnee Mission West arrives in September.
"Some of the coaches have said it's like the best offseason we've had in a couple of years," said Torneden, a junior. "We definitely need that losing all of the talent we did last year."
Torneden will have the opportunity to win the starting quarterback job, and he's as convinced as Lisher that there won't be a drop-off from last season.
"I'm still confident," Torneden said. "I have a lot of trust in these guys. I know that was one of our best senior classes that we had last year, but we have a lot (of talent) this year, and we can recover. We just have to believe in ourselves."
Frantz to commit soon
Frantz said he will probably commit to a college in the next three or four weeks, though there is no set timetable. The senior-to-be picked up several Div. I offers throughout the offseason and said he will likely choose between Kansas University, Kansas State and Missouri.
Copyright 2018 The Lawrence Journal-World. All rights reserved. This material may not be published, broadcast, rewritten or redistributed. We strive to uphold our values for every story published.