When it comes to choosing a drill, bigger is not always better. Choosing a drill that fits the task at hand, as well as your actual hand, is the best idea.
Step 1: Corded electric drills have some advantages over battery powered drills. Corded drills are less expensive, include an unlimited supply of consistent power and are always ready when you are. But corded drills do require a nearby power source and can be awkward to use in certain situations. For sporadic homeowner use, a corded drill is a good choice.
Step 2: Don't confuse a power screwdriver with a drill. Hand tools with less than 7 volts of power are great for installing cabinet hardware or assembling ready-made furniture, but cannot be counted on to drill through hardwood or heavy materials. Drill drivers with more power often come with quick change chucks. These are great for switching between drill bits and screwdriver bits, but limit drill bit selection to more expensive, harder-to-find quarter-inch hex shank bits.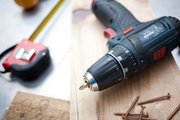 Step 3: Bigger batteries are heavier. Choose a drill that fits the job, but is not too big to handle. 7.2-volt drills will work for driving screws, drilling small holes and other basic homeowner maintenance projects. 9.6-volt or 12-volt drills are the best choice for most home repair and small remodeling projects. They can drive screws into hardwood and drill larger holes in wood or plaster. Choose a 12-volt or larger drill with a hammer drill option for drilling into concrete, tile, and pressure-treated lumber and for driving longer screws into hardwood.

Step 4: Along with battery and drill size, consider the time it takes to recharge the battery, as well as how long the battery will last. Batteries with a higher mAh (milliamp-hour) rating will hold a charge longer. Purchasing a second battery is a good, practical idea.
Step 5: A heavy drill balanced correctly is much easier to use than an awkwardly designed lighter weight drill. Hold the drill at several different angles and above your head. A drill that is more comfortable to use is much more likely to be used.
Step 6: Consider the advantage and disadvantage of various features. Keyless chucks make it easy to change drill sizes and screw driver bits. Variable-speed drills offer more control of drive speed, and an adjustable clutch can reduce driving mistakes.
Copyright 2018 The Lawrence Journal-World. All rights reserved. This material may not be published, broadcast, rewritten or redistributed. We strive to uphold our values for every story published.