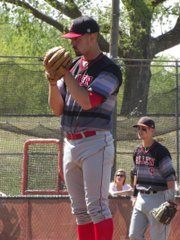 J.D. Prochaska hasn't had the baseball career he envisioned when he graduated from Free State High in 2012, but things are looking up for the former Firebirds pitcher. He recently signed to play Div. I ball at the University of North Carolina at Charlotte.
"I took a bunch of visits to schools and got it narrowed down, and it just came down to the place I liked the best and the coaches at Charlotte," Prochaska said.
Prochaska began his collegiate career at Allen County Community College in Iola. He missed his freshman season in 2013 after undergoing Tommy John surgery to repair his ulnar collateral ligament, but bounced back this spring, becoming the team MVP and an All-Jayhawk Eastern Conference selection.
The lefty posted solid statistics across the board for Allen County, going 4-3 with five no-decisions in 12 starts. His strikeout-to-walk was better than 2-to-1, punching out 59 batters over 53 innings while only allowing 29 free passes. Prochaska also had a respectable 3.12 ERA and 1.207 WHIP.
Although Prochaska wished he hadn't lost his first season to an injury that has become more and more common for young pitchers, he said the time off was a positive thing for his arm.
"I think there are ups and downs to it having it kind of early. I had to miss a lot of my career at Allen, but I also got kind of a break from throwing. Having a break is pretty good for your arm, and it will maybe help me last a bit longer or feel better longer in the upcoming years."
Before heading to Charlotte, Prochaska will serve as the pitching coach for the Lawrence Raiders this summer. Prochaska played for the American Legion baseball team during the summer of 2012 and was the pitching coach last season under manager Brad Romme.
"I think the fact that he threw quite a bit in the spring and the doctor who worked on him asked him to take the summer off, so that's the only reason we get him back this summer as the pitching coach again," Romme said. "Selfishly speaking, I'm delighted to have him back and working with our guys this summer."
Romme was on Mike Hill's coaching staff at Free State when Prochaska began his career with the Firebirds and believes the young southpaw's best is still ahead of him.
"Just kind of alluding to the teammate he is, he did whatever we asked, and that is just the type of kid he is," Romme said. "I don't think anything will change (at UNC Charlotte). I think he'll have a great career out east, and who knows where he'll go from there?"
Copyright 2018 The Lawrence Journal-World. All rights reserved. This material may not be published, broadcast, rewritten or redistributed. We strive to uphold our values for every story published.