The tour
What: A self-guided tour of 16 community and personal food gardens in Lawrence
Where: Tour brochures and maps are available at Cottin's Hardware and Rental, Pines Garden Center and via the tour's Facebook page, facebook.com/LawrenceFoodGardenTour
When: 9 a.m. to noon and 5 to 8 p.m. Saturday
It's just past lunchtime on a balmy day in late May, and four chocolate-colored Indian Runner ducks have gathered under a fruit-laden plum tree near the corner of Pennsylvania and 12th streets in east Lawrence.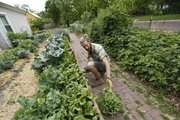 They all look fairly similar, though one duck in particular stands out.
"That's Dennis," said Cosmic Beauty School co-founder Nick Brown, gesturing toward the so-called "rebel" of the flock. "He always has his wing sticking out."
Dennis —along with Chopstick, Ginger and Skeezix— will make his debut this weekend during the Lawrence Food Garden Tour. The event, now in its sixth year, aims to showcase the diversity of food production within city limits at private and community gardens.
Cosmic Beauty School, a collective residence "dedicated to social justice, permaculture and holistic health," is among the 16 stops on this year's tour.
The gardens will be open to the public from 9 a.m. to noon and from 5-8 p.m. Saturday.
"The garden tour itself is pretty fun," said Brown, who has participated in the event four years in a row. "It gives our gardeners a reason to practice and hone up on their ability to articulate our methods and describe what we do to other people."
A core group of eight volunteers, dubbed "row keepers," regularly tend to the garden at 1145 Pennsylvania St. In the space grows just about every kind of fruit, vegetable and herb. Hugging the side of the residence are broccoli, carrots, beets and spinach. Fruit trees —peach, apple and plum— hang over the curb of 12th Street, sharing the plot with nearby elderberries, blackberries, raspberries, strawberries and grapes.
The "row keepers," along with a group of about five to 10 others, harvest together and divide up the produce.
Brown said the 1,000-square-foot plot owes its abundant yields to a variety of gardening methods, namely biointensive agriculture. The organic practice emphasizes maximum yields within a minimum area of land, while simultaneously creating a "deep, nourishing root zone."
Permaculture, which Brown said "mimics natural ecosystems integrated with human habitats," also plays a vital role.
The garden's ducks, for example, help to eliminate pests and weeds, while their manure provides rich fertilizer.
That, and they're fun to have around.
"They serve a lot of functions," Brown said of the ducks. "They're also here for company and silly antics."
For Brown, the success of the Cosmic Beauty School garden isn't necessarily marked by a plentiful harvest. Instead, he said the "little patch of peace" serves as a model to show how space can be used collectively, particularly in urban settings.
"I like to say that while you might notice prolific pea plants or large broccoli plants, the thing that we are most proud of growing in the garden is relationships," Brown said. "All this lushness and biodiversity tends to give people pause to slow down and stop and smell and introduce themselves, start up conversations. And that's what I'm really hoping to share with others."
Copyright 2018 The Lawrence Journal-World. All rights reserved. This material may not be published, broadcast, rewritten or redistributed. We strive to uphold our values for every story published.