Photo Gallery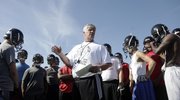 Lawrence High School football camp
Football players participated in the Lawrence High School football camp Monday, June 2, 2014.
Lawrence High's football players knew the team was going to suffer a few losses last year after losing a lot of offensive firepower from the year before.
Now the Lions are hopeful they can get back on track and raise their expectations. They held their first summer football practice Monday morning and are ready to put last season's losses behind them.
One big reason for their optimism is how much experience last year's sophomores gained.
"We took our lumps," LHS coach Dirk Wedd said. "We started seven sophomores a lot. We had 11 of them letter. So they should be (ready). …This whole football team worked hard this winter and that pretty much tells you how important it is to them."
By the end of the year, the Lions had five sophomore starters: lineman Amani Bledsoe, tight end Price Morgan, quarterback Alan Clothier, linebacker Tanner Green, and cornerback JD Woods. Safety and receiver J'Moni Bryant, lineman Nate Koehn, corner Ivan Hollins and long snapper Konner Kelley also earned plenty of playing time.
Not only are the sophomores ready to play bigger roles on the team, but they also are motivated by the class above them.
"What we really want to do is make this year for seniors something special for them," Clothier said. "We want to go out there and win football games for them — just to work hard for them because it's their year."
For the entire team, they're dedicated on improving from last year's 3-6 record.
"I have weight (classes) during the school year with a few of these guys, not very many, but when I came in the weight room this morning, some of those dudes were throwing on two or three plates," senior-to-be Nyle Anderson said. "I was like, 'OK! Well, here we go. That's the start of it.'"
Anderson was backing up Clothier at quarterback at the non-contact, helmets-only, practice Monday, but could start in the secondary and at wide receiver. He has elite speed and can catch well enough to play receiver if he's not quarterback.

"My hopes are just to win games," Anderson said. "I honestly don't care where I play and how much I play as long I can help the team get the wins. That's all that really matters to me."
There were more than 75 players at the practice, including 35 freshmen, Wedd said. The freshmen also drew praise from Anderson for staying attentive during practice and watching the varsity players go through plays.
"That's how your program continues to grow," Wedd said. "We're in good shape there. We have a real small senior class, so that's good."
As the Lions prepare over the summer for their first game against Blue Valley West in September, they remember those lumps they took last year.
"That senior class, I don't think I could have asked for a better one to lead me into this program," Anderson said. "They welcomed me with open arms and I love every single one of those seniors. It was hard seeing them lose their last game so we're just coming out first game, first couple weeks, hitting hard — a little angry about last year."
Copyright 2018 The Lawrence Journal-World. All rights reserved. This material may not be published, broadcast, rewritten or redistributed. We strive to uphold our values for every story published.