Impress guests at your next summertime cookout with a drink poured from these stylish pitchers with personality, all available at Lawrence stores.
Cog pitcher
The cog-like handle adds an industrial feel to this quirky piece by local artist Ryan Paget. Available at: Phoenix Gallery, 825 Massachusetts St., 843-0080, phoenixgalleryks.com, $90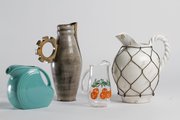 Turquoise ceramic Fiesta pitcher
You might recognize this classic design from your grandmother's kitchen. Fiesta has been manufacturing these brightly colored ceramic pitchers since the Great Depression. More than 75 years later, they're still made in the USA. Available at: Weaver's Department Store, 901 Massachusetts St., 843-6360, weaversinc.com, $40.99
White pitcher from Italy
Handmade in Italy, this statement-making pitcher is sure to lend a touch of rustic charm to any place setting. Available at: M Street Interiors, 825 Massachusetts St., 856-2426, mstreetinteriors.com, $164.95
Oranges pitcher
For vintage enthusiasts: Quench your thirst for all things retro with a splash of orange juice from this 1950s-era pitcher. Available at: Lawrence Antique Mall, 830 Massachusetts St., 842-1328, $24
Copyright 2018 The Lawrence Journal-World. All rights reserved. This material may not be published, broadcast, rewritten or redistributed. We strive to uphold our values for every story published.