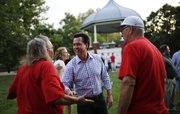 Milton Wolf brought his Tea Party-backed campaign to Lawrence on Tuesday night, telling a gathering of about 50 supporters that if he can upset U.S. Sen. Pat Roberts in the Aug. 5 primary, he'll go to Washington and oppose President Barack Obama at every turn.
"I think Barack Obama's about the worst president in our lifetimes, and it's nothing personal," Wolf told a gathering of about 50 people in South Park. "But I think his policies are destroying America. His policies have abandoned your liberty. His policies believe government can make your decisions, but I believe in you."
Wolf is a Johnson County radiologist who is also a distant cousin of Obama. He talked about that relationship during his speech, noting that while U.S. history has seen some famous family dynasties in politics — from Presidents John and John Quincy Adams to the Kennedys — he plans to offer the first family rivalry.
"I will launch the mother of all family feuds to save America," Wolf said.
Those words were encouraging to people like Chelsea Ellis, of Lawrence, a recent Kansas University graduate and a Wolf supporter who turned out for the rally. She said she's looking for a candidate who will "not give in to the other side."
"That's my biggest issue," Ellis said. "I know that Pat Roberts has voted to raise the debt ceiling 11 times, and I feel like that's harmful for our country, and I feel like that places a lot of debt on my generation."
With only one week remaining before Election Day, Wolf faces an uphill climb in his effort to unseat Roberts, a three-term incumbent who has been a fixture in Washington since the 1960s, when he worked as an aide to then-Rep. Keith Sebelius.
A recent SurveyUSA poll showed the race narrowing slightly in the past month, but Roberts still maintained a 20-point lead, 50 percent to 30 percent, with 12 percent of likely GOP primary voters saying they are still undecided.
Asked to respond to those numbers, Wolf pointed to another poll commissioned by the Tea Party Patriots, which he said shows him within 12 points of Roberts and gaining ground.
"The way you win this election is by simply getting out the word," he said. "Among people who know us both, I'm actually beating him."
Still, Roberts has not taken the race for granted. Analysts have said his voting record in the Senate became decidedly more conservative once he knew he would face a Tea Party challenge. His scorecard rating with the conservative magazine The New American, for example, rose from 63 percent in 2012 to 83 percent today.
Roberts has also run TV ads chastising Wolf over revelations about his posting x-ray images of gunshot victims on Facebook, and for failing to vote in 28 elections over the past 19 years.
But Wolf shrugged off the attacks, calling them a sign of weakness on Roberts' part.
"After 47 years in Washington, Pat Roberts cannot name for you a single achievement that is worth being re-elected," Wolf said.
Tim Wass Jr., who recently moved to Lawrence from Parsons, said he supports Wolf because he is a "constitutional conservative."
"I'm really looking for people who have common sense, regardless of party," Wass said. "I want to have supporters of liberty in public office."
Copyright 2018 The Lawrence Journal-World. All rights reserved. This material may not be published, broadcast, rewritten or redistributed. We strive to uphold our values for every story published.