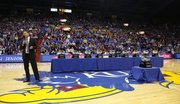 Road warriors
How KU's road record stacks up against every other school's home record in Big 12 games during KU's active streak of 10 consecutive Big 12 basketball titles:
School W-L Pct.
Texas (home) 67-16 .807
Kansas (road) 61-22 .735
Oklahoma State (home) 61-22 .735
Missouri (home) 47-18 .723
Kansas State (home) 59-24 .711
Oklahoma (home) 59-24 .711
Texas A&M; (home) 45-20 .692
Iowa State (home) 50-33 .602
Baylor (home) 47-36 .567
Nebraska (home) 30-26 .536
Colorado (home) 27-29 .482
Texas Tech (home) 39-44 .470
West Virginia (home) 12-15 .444
TCU (home) 4-23 .148
-->
-->
In town for the Sunflower Showcase, Texas A&M; assistant basketball coach Kyle Keller raised an interesting question during a chat in the Okun Fieldhouse parking lot.
"What's going on over there now has to be one of the most amazing things in sports, doesn't it?" Keller said of the Kansas University basketball program's active streak of 10 Big 12 titles. "And the most amazing thing about it is what they've done on the road. If you look it up, other than Texas, I'd be surprised if any school has won more games at home than he has on the road."
By "he," Keller meant his old boss and longtime friend, Bill Self.
A check of the records shows Keller is correct. Remarkably, Kansas has a .735 road winning percentage in league play during the regular-season conference streak. During that time, Texas has an .807 home winning percentage, and Oklahoma State has an identical home record to KU's road mark.
If the Big 12 had parity-seeking rules in place similar to the NFL's, drastic measures would need to be taken. Ever wonder why the NFL plays Robin Hood with its draft system, schedule-making and salary cap? Follow the money. Parity means more close games, which keeps viewers tuned in until the end and drives up the price tag for commercials.
The only way to level the Big 12 basketball playing field would be to shutter Allen Fieldhouse. Lock the doors and toss the key into the Kaw. Make Kansas play all of its games on the road, a tougher task than in most leagues and an easy one nowhere.
West Virginia coach Bob Huggins came to the Big 12 from the old Big East, and his words said plenty about the difficulty of winning away from home in the Big 12.
"The atmospheres were night and day," Huggins said at Big 12 Media Day in 2013. "You go from a league where you play maybe half of your games in NBA arenas that are downtown, away from campus, and you don't have the student involvement that you have in the Big 12. I think the atmospheres in the Big 12 are far tougher to play in than they are in leagues where you don't play on campus."
KU's 5-4 Big 12 road record this past season was its worst during the 10-season title streak.
The decade of dominance has included four shared titles: Oklahoma (2005), Texas (2006, 2008) and Kansas State (2013). It's not as if Kansas has been swatting aside stiffs to load the trophy case. Three years in a row, Kansas had to get by a team led by the nation's best player (Kevin Durant, 2007), (Michael Beasley, 2008), Blake Griffin (2009).
In the 2008 national-title season, Kansas went 21-0 against schools from outside the Big 12.
KU twice won conference titles under Self with five new starters and three times in a four-year span made it through the entire schedule with three losses: 37-3 in '08, 33-3 in 2010, 35-3 in 2011. Insane records.
The cruel aspect of single-elimination tournaments leaves every team but one feeling empty and sad at the end. Regular-season conference titles are won with the ultimate prize still in play, so not much time is spent reflecting on them. They're easy to overlook.
But Keller, excited about A&M;'s chances of putting it all together this season in the SEC, is right in pointing to KU's conference streak as one of the most amazing accomplishments in sports today.
Texas is loaded this coming season, so it could come to an end. Or not.
Copyright 2018 The Lawrence Journal-World. All rights reserved. This material may not be published, broadcast, rewritten or redistributed. We strive to uphold our values for every story published.