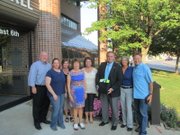 The Lawrence Police Foundation presented Police Chief Tarik Khatib with five new Automated External Defibrillators at the City Commission meeting Tuesday night.
The foundation, which is an independent nonprofit formed by community members to strengthen the Lawrence Police Department, has been raising funds to purchase AEDs for use in patrol cars since 2012.
Typically, the foundation presents the department with new AEDs in November after its annual September golf tournament, but this year an anonymous woman whose son was saved with an AED by first responders contributed "generously" to the project, the foundation said.
The foundation said it works to equip patrol cars with AEDs because police are often the first to respond to emergencies, and access to life-saving equipment "provides the best opportunity for a positive outcome for the victim."
The latest donation brings the total number of AEDs the foundation has given to the department to 22 since November 2012.
Copyright 2017 The Lawrence Journal-World. All rights reserved. This material may not be published, broadcast, rewritten or redistributed. We strive to uphold our values for every story published.