Photo Gallery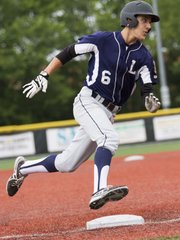 Lawrence Raiders vs. Salina Sliders
Bad innings doomed the Lawrence Raiders youth baseball team in both of its losses at its home tournament Thursday.
The Raiders fell to the Wichita Reds, 9-1, and suffered a walk-off loss to the Salina Sliders, 6-5.
"I sound repetitive, especially the past couple of weeks, but it's been our nemesis," Raiders coach Brad Romme said. "We'll play five or six quality innings … the only thing is that it's a seven-inning ballgame."

While the Raiders were run-ruled in six innings in their loss to the Reds, the game was much closer until the final frame.
Lawrence's Nolan Prochaska and Wichita's Tremaine Simpson kept the game scoreless through three innings, but the Reds slowly pulled away, 3-1, before Prochaska got into a bases-loaded no-outs jam in the sixth.
The Reds continued to rally against the Raiders' bullpen and tacked on six runs to put the game out of reach.
Zach Bickling drove in Lawrence's run with an RBI triple in the fourth.
The Raiders' offense bounced back in the next game, forcing an early exit for Salina starting pitcher Trent Baird after knocking him around for four runs on two hits and six walks through 1 1/3 innings.
The Raiders added another run in the third, but the tide turned quickly in the bottom of the fifth.
A hit batter, an error and a string of base hits led to a four-run inning for the Reds, who drew even.
The game remained deadlocked at 5 until the bottom of the seventh, when Zach Nachbar drove in the game-winning run with a sacrifice fly.
The Raiders play at 6 p.m. today at Free State.
---
Reds 000 216 – 9 9 1
Raiders 000 100 – 1 4 2
W – Tremaine Simpson. L – Nolan Prochaska.
3B – Zach Bickling, Lawrence; Braden Minor, Will Clark (Wichita).
Raiders highlights: Zach Bickling 1-3, triple, BB, RBI, K
Raiders 131 000 0– 5 7 4
Sliders 100 040 1– 6 7 1
W – Aaron Mar. L – Ryan Cantrell.
2B – Dalton Wassenberg (Salina).
Raiders highlights: Drew Green 2-for-3, two singles, sacrifice fly, K; Easton Barnes 1-for-2, single, RBI, 2 BB, run.
Copyright 2018 The Lawrence Journal-World. All rights reserved. This material may not be published, broadcast, rewritten or redistributed. We strive to uphold our values for every story published.