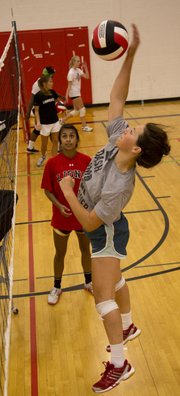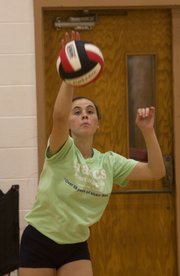 After spending all summer playing in open gyms, lifting weights and conditioning, Lawrence High's volleyball players are wrapping things up by playing alongside each other in a weeklong team camp.
This is the last week the Lions can play together as a full team until the Kansas High School Athletic Association's mandated dead period ends and tryouts begin in August.
"Team camp is really, really fun," senior Cienna Sorell said. "It gives us a chance to work with the younger kids and just work with everyone that has potential to be on the team. It helps us be better leaders as seniors. Workouts have been going really well, and I think we've all definitely gotten stronger."
Throughout the summer, 20 to 30 girls have shown up daily for two-hour open-gym workouts, and a majority of those girls also participated three times a week in morning weight-lifting sessions.
At the team camp Thursday, more than 30 high schoolers spent the last hour facing off in 6-on-6 games.
"It's always a lot of fun," senior MaKayla Wagner said. "We've had a real good turnout this year, even at open gym."

The Lions hope the weeks of bonding will help them improve on last season's 13-23 record.
"We are definitely are all about teamwork," Sorell said. "We try really hard to keep communication up, and when we get down, which does happen, we just have to work at it and get each other up."
A key to their success will be how well they can communicate as a team to help their defense.
"We're very good at passing — we're more of a defensive team," Wagner said. "Overall we are a stronger defensive passing team than we are hitting."
As the Lions prepare for their last practice today, they're happy with the progress made since the end of last season.
"We've been doing open gyms all summer, so this is kind of our culminating event for the summer," LHS coach Stephanie Magnuson said, "our last opportunity we have to be all of us together. I've been very happy with what I'm seeing.
"It's just a hard-working group. They're committed to putting in the time and the effort that it's going to take to be the best they can be."
Copyright 2018 The Lawrence Journal-World. All rights reserved. This material may not be published, broadcast, rewritten or redistributed. We strive to uphold our values for every story published.