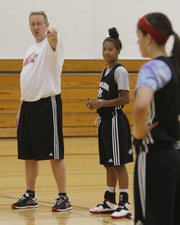 A new coach meant a lot of changes for Lawrence High's girls basketball players this summer.
There are new plays, a new defensive system and a lot of hope they can improve upon last year's 6-15 record.
The Lions are also getting plenty of time on the court. They participated in team camps at Emporia State and Wichita State, and they also played in a summer league hosted by Shawnee Mission South and in the Jayhawk Jamboree at Kansas University.
"We have a long ways to go. We have a lot of things that we need to accomplish, but we got a lot done this summer," first-year LHS coach Jeff Dickson said. "We played a lot of games, spent a lot of time in the gym. I think it's going to pay off and show with visible results for the kids."
Though the Lions didn't win much during the team camps or in the summer league, they aren't disappointed with the amount of progress they've made in the last two months.
"We didn't win that many games, but we just started doing the little things right. They're starting to click for us," senior Matia Finley said. "I don't know, I just think we're moving toward, like, a different direction, and we're all just coming closer together. I think we're working a lot better together. It's pretty cool to see."
The Lions have averaged about 20 girls for the team's daily practices, which some days have been as early as 6:30 a.m.
Now that they are starting to learn to play alongside one another, they're confident that they will be much more competitive in the winter.
"I've been really happy. You can definitely tell a difference," sophomore Skylar Drum said. "We're doing a lot better. We're doing the little things. We're showing up here just to get better."
Summer workouts come to a close by the end of the month, but Dickson said he hoped players could continue making strides before the season starts in November.
"I think this group is pretty determined and pretty driven," Dickson said. "I'm excited about what, I think, they're going to be able to accomplish."
Copyright 2017 The Lawrence Journal-World. All rights reserved. This material may not be published, broadcast, rewritten or redistributed. We strive to uphold our values for every story published.