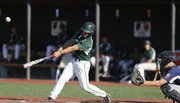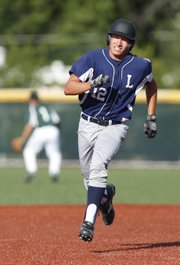 Free State Karlin broke a tie with two runs in the sixth inning to defeat the Lawrence Raiders, 4-2, in youth baseball Tuesday night at Lawrence High.
The Raiders had four hits, including a triple by Zach Bickling and a double by Bowen Cunningham,
"We're still struggling on playing seven innings of real clean baseball," Raiders coach Brad Romme said. "We'll have a good opportunity this weekend in our tournament."
The Raiders will host a 16-team tournament beginning Thursday with games played at both Free State and Lawrence High. The Raiders will play their games at Free State.
Free State Karlin 4, Lawrence Raiders 2
Free State 101 002 0 — 4 6 1
Raiders 001 010 0 — 2 4 3
W — Trever Munsch. L — Briggs Fish (2-3).
Raiders highlights — Zach Bickling 3B, run; Bowen Cunningham 1B, 2B, RBI.
Raiders record — 10-22. Next for Raiders — Raiders Tournament, 3:45 p.m. and 6 p.m. Thursday vs. TBD at Free State High.
Copyright 2018 The Lawrence Journal-World. All rights reserved. This material may not be published, broadcast, rewritten or redistributed. We strive to uphold our values for every story published.