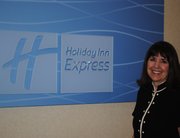 • Lawrence-based Tallgrass Studios, Inc. announced the promotion of Ronak Bhakta to director of fulfillment. Bhakta has been with Tallgrass since March 2011 and will be working out the new Albuquerque, N.M., extension office.
• Linda Honeyman has been named general manager at the Holiday Inn Express, located at 3411 Iowa St. in Lawrence. Previously, she was the general manager of the Settle Inn & Suites in Spring Creek.
Copyright 2018 The Lawrence Journal-World. All rights reserved. This material may not be published, broadcast, rewritten or redistributed. We strive to uphold our values for every story published.