It's practically an annual holiday in Lawrence. With downtown Lawrence abuzz before the sun rises, you know something good is going on.
The 55th Annual Downtown Lawrence Sidewalk Sale is July 17, which means from sunup to sundown, Massachusetts Street will be flooded with sale-crazed shoppers shuffling from store to store.
If you're interested in getting in on the goods, you'll want to keep a few things in mind as you prepare for this event.
Have a game plan
Most downtown stores participate in the Sidewalk Sale, but you can double check by visiting each respective store's Twitter and Facebook to get updates on specifics like the store's hours of operation, extent of the sale, particular items that will be discounted, etc.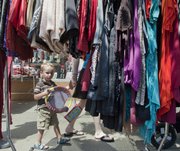 With this information in mind, consider what's most important to you. Do you have a specific item you will be shopping for? Or are you more interested in the best deals downtown? Make the most out of the event with a strong plan of attack.
Plan for success!
This means leave the strollers at home (if you can) to move quickly and easily through the crowd.
Also, bring a large shoulder bag that you can toss smaller shopping bags into (which will keep your hands free).
And wear a watch! The sales at each store start at different times. What's more, you can easily get sucked into a black hole of shopping if you're not mindful of the clock.
All of these tactics can ensure your time spent at the Sidewalk Sale is efficient, organized and on schedule.
Not-to-be-missed shops
I've attended the Sidewalk Sale for the past two years, and can say that Weaver's does a cleanup job of sales. Also, Foxtrot — for those super-fancy shoes — is tops, as is the Phoenix Gallery (lots of creative goodies there).
I've noticed that Urban Outfitters is a madhouse (although I haven't braved the crowds there), and Gap is another popular stop.
The Downtown Lawrence Sidewalk Sale only happens once a year, so reserve some time on July 17 to swing by your favorite shops and support the downtown businesses. I've provided a few bits of advice here, but also remember to wear walking shoes and stay hydrated (truth be told, the crowds can be just as intense as the heat).
Wishing you excellent deals and unlimited shopping energy!
— Jessica Pauly gives her thoughts on shopping, urban living and what's new in Lawrence on her blog mrsmass.com.
Copyright 2018 The Lawrence Journal-World. All rights reserved. This material may not be published, broadcast, rewritten or redistributed. We strive to uphold our values for every story published.